1. Introduction to CCD
Welcome to the Career and Community Development (CCD) course! We are thrilled to be embarking on this adventure with you. CCD is designed to awaken the immense potential of young Nunavimmiut to harness their collective skills, values and interests to create thriving communities across the region. It does not follow a traditional model of education. Rather, it is a course that was specifically designed and developed to meet current and future needs of students in Nunavik.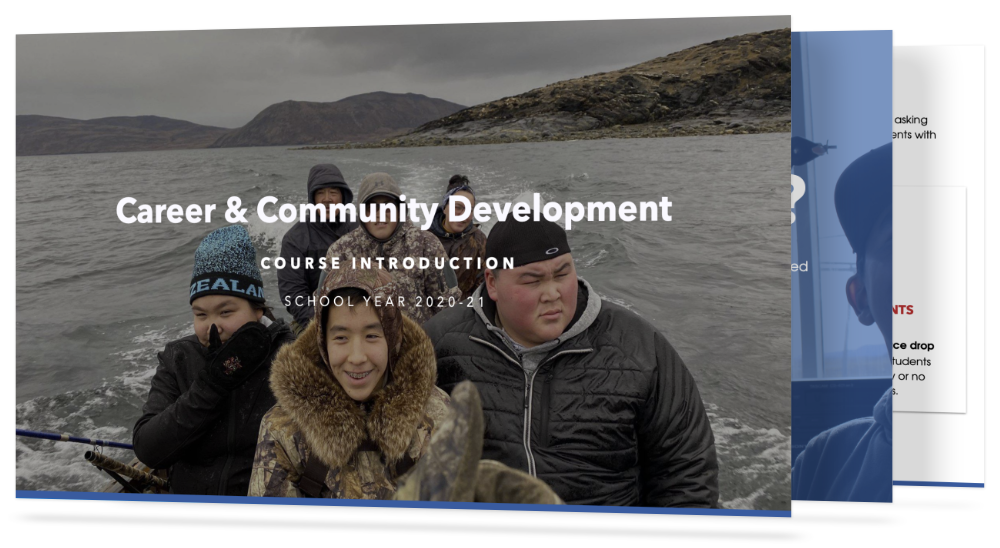 The purpose of this page is to provide basic tools and resources for the course, but rest assured, there will be supplementary training to support all new and returning CCD teachers. We can't wait to meet and work with you this year!
2. CCD Mindset & Pedagogy
In this section, learn about the pedagogy and mindset behind the Career and Community Development Course.
2.1 CCD Mindset & Pedagogy Presentation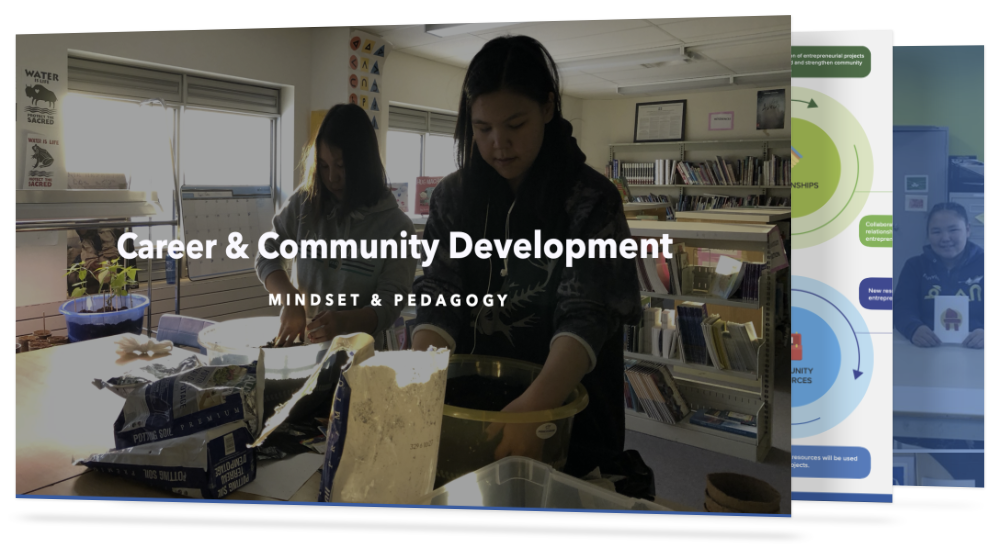 Professional development
2.1-2.3
Career and Community Development
Transformative Learning
Teacher resources for adopting Transformative Learning approaches as suggested in the Career & Community Development…
Professional development
2.1-2.3
Career and Community Development
Curriculum Framework
Career and Community Development course framework
Professional development
2.1-2.3
Career and Community Development
Critical Skills
The six critical skills of the CCD program and how they relate to Inuit Qaujimajatuqangit
3. Critical Skills & Assessment
CCD assesses students primarily based on their critical skill development and engagement in the classroom. The CCD evaluation method is designed to value personal achievement and growth. The learning objectives should be adapted to provide students with an individualized learning path. Many resources are available to help with your assessments.
3.1 Evaluation Framework
The proposed evaluation framework for CCD is the following:
Term 1 (30%)
Module 1 & 2
Reflections – 20%
Skills & Tasks – 40%
Engagement – 40%
Term 2 (30%)
Module 3 & 4 (First part)
Reflections – 20%
Skills & Tasks – 40%
Engagement – 40%

Term 3 (40%)
Module 4 (second part) & 5
Reflections – 20%
Skills & Tasks – 30
Showcase – 10%
Engagement – 40%
Skill Development Assessment Guideline (Refer to the "Rubric" document for a competency assessment template)
Level 1 – 50-59
Level 2 – 60 – 69
Level 3 – 70/79
Level 4 -/+ – 80 -100
1 = standards not met; 2 = standards partially met; 3 = standards met; 4 = exceeds expectations
3.2 Resources
To effectively connect with students in Nunavik, the education methodologies need to be grounded in Inuit culture and values. The foundation of this program is specifically set on nurturing powerful, sustainable and impactful communities and learning experiences.This approach allows learners to explore relevant issues imbedded in cultural thinking.
Critical Skills
These pages provide a detailed list of indicators and prompts that can be used to assess skill development.
Below are the six critical skills students should build throughout the course and how they relate to IQ:
4. Curriculum & Course Resources
There are many resources available to teach the CCD course. In this section, we will showcase the most important ones for you to consult and get started.
4.1 Course Resources Presentation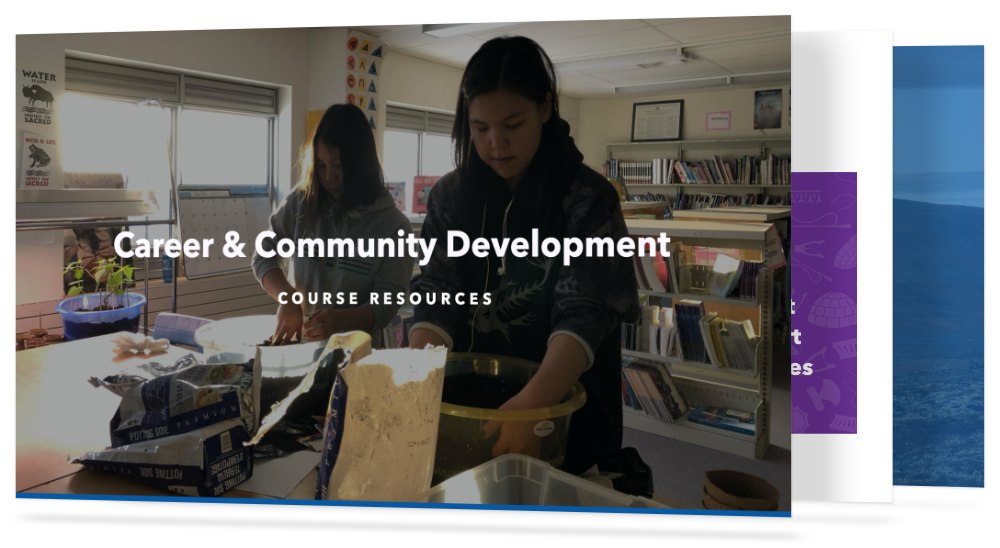 4.2 Resources
Modules
Explore year 1 module guides & teaching resources
5. CCD Project Examples
In the presentation below, you will find a showcase of projects created by CCD students during the school year of 2019-2020.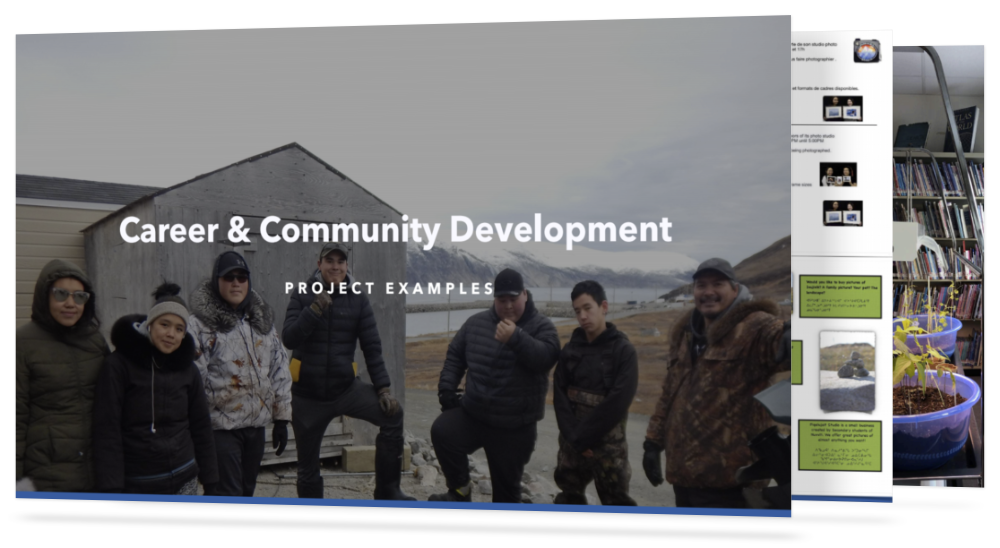 6. Getting Ready: How to Prepare to Teach This Course
The pedagogical team is here to help you! We aim to constantly provide tools that simplify your teaching preparation.
6.1 Know what you have
6.2 Resource Mapping
The documents "Assets and resources in your community and school" (teacher and student versions) are great starters for you and your students.
6.3 Lesson Plans
The CCD teacher's guide and student workbooks are simple to navigate and they clearly outline each module with lesson plans, duration, purpose, competencies, indicators, skills, and concepts. The following documents are suggestions that may help in your planning process.
7. CCD Teacher Training
7.1 Teacher Training
When? Where?
Wednesday, August 5th, 2020
1:15 PM in English
3:00 PM in French
Mandatory for new teachers
Purpose
Overview of the vision and mission of the program
Presentation of the material with a hands-on approach
Assistance with all aspects of the course
Goals
Feel confident in teaching this course
Understand the objectives
Have ready-to-use material
7.2 Before the training
Please fill out the Teacher Biography Form.
Please complete the My views on entrepreneurship Survey.
Please share any expectations or questions you have for the training.
Read through the introduction and Module 1 of the teacher's guide and student workbook.
Download and read the following resources on skill development and assessment:
Setting the Stage for Success
Rubric
8. Meet the Team
Career & Community Development Pedagogical Counsellors
For any questions concerning the CCD course please contact our pedagogical counsellors:
Assistant Director, Second Language Curriculum
9. Questions
Do you have any questions for us? Submit them in the form below and we will answer them during the orientation session!