Welcome to the primary math curriculum. Here you will find everything you need to get started with JUMP Math from kindergarten to grade six.
---
1. Introduction to the JUMP Math Approach

1.1 What is JUMP Math?
JUMP Math is a philosophy and a set of classroom materials that aim to improve the teaching of mathematics and to help students enjoy and meet their potential in the subject.
We reinforce a belief that only a few are born with ability. But what if our belief itself was the main cause of the problem?

John Mighton
This video features how JUMP Math resources use guided discovery to support and challenge all students.
1.2 What is the JUMP Math Approach?
1.3 Teach, Practice, Assess
The JUMP Math teaching approach uses a model of teach, practice, assess.
Here is a video of John Mighton demonstrating the teaching approach.
1.4 Models for Using JUMP Math
There are 4 model approaches to teaching with JUMP Math. Each model represents a typical Math class duration of 45 minutes, balancing lesson teaching, practice, activities, extensions and on-going assessment.
1.5
On-Going Assessment
On-going assessment is key… Keep the following principles in mind.
1.6 Research
2. JUMP Math Resources
2.1 Teacher Resources
JUMP Math teacher's resources are available on Kativik Ilisarniliriniq Community on Teams and include:
Teacher's Guides;
Assessment and Practice books;
Smart Board Digital Lesson Slides;
Quizzes and Tests.
2.2 Lesson Plans
2.3 Organizing your Teacher's Resource
2.4 Assessment and Practice Books
Assessment and Practice (AP) books are used in tandem with the Teacher Resource and not intended to be used in isolation (without the lesson plan).
JUMP Math ≠ Workbook Program
2.5
Smart Board Digital Lesson Slides
Each lesson in JUMP Math has accompanying digital lesson slides that facilitate teaching the lesson content.
Teach, Practice and Assess with Lessons Plans and Digital Lesson Slides
Digital lesson slides contain little text, have vocabulary highlighted in blue, contain all charts or graphics needed and can easily be modified.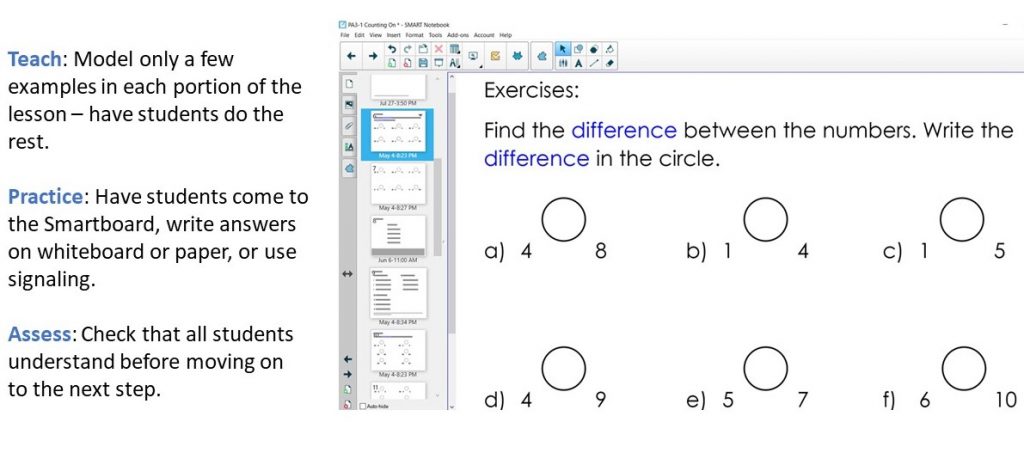 Why Use Digital Lesson Slides?
Aids teacher preparation
Supports student engagement
Increases student-teacher interaction
Highlights critical features of the lesson
Facilitates the flow of the lesson
Includes:

Vocabulary, text
Questions, prompts, explanations
Shapes, tables, graphics
Exercises, activities and extensions
2.6 Mental Math
Mental math is a mathematical framework that includes number sense, computational fluency and the application of number concepts through purposeful and varied practice, not just rote memorization.
Mental Math Minutes are included in the lessons.
Copy or print off the checklists – there is enough room on each form to list each student.
Put them on a clip board so you can run quick assessments at your discretion.
Mental Math Activities
2.7
Assessment Tools – Quizzes and Tests
2.8
Blackline Masters (BLMs)
2.9
Ordering JUMP Math Resources
Send orders to the Printing Department Printing.KSB@kativik.qc.ca
Please contact matthew.smith@kativik.qc.ca for any inquires regarding Print Requests and Curriculum Orders.
Don't forget that these resources are also available in digital format on your school computers using DB Server.
3.
Tools to Support Teaching and Learning
3.1 Tools for Multi-level Classrooms
These documents will help to align the JUMP Math lessons you may be able to teach to the whole group at one time.
Note: However, there may also be lessons that each individual grade will have to complete or specific content to cover before or after for further understanding.
Check the Teacher's Guide to make sure you are covering all the required material for each level.
Note: Lessons listed on the same line may cover the same content in different ways.


3.2
Second Language Vocabulary
Review vocabulary before teaching and plan to incorporate this language throughout the day or week.
4. Curriculum and Evaluation
4.1 Competencies
Here are the competencies for primary mathematics.
To access the curriculum documents for primary mathematics, visit the MEES website.
4.2 Strands
The development of the competencies in mathematics is developed through learning in the following five strands.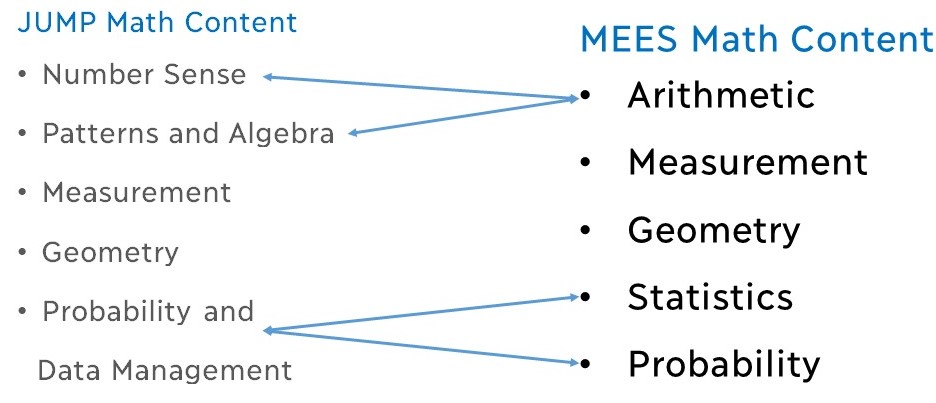 4.3 QEP Competency Weightings
For the 2022-2023 school year, competency #2 will be weighted for 100% of the students' mark on the report card.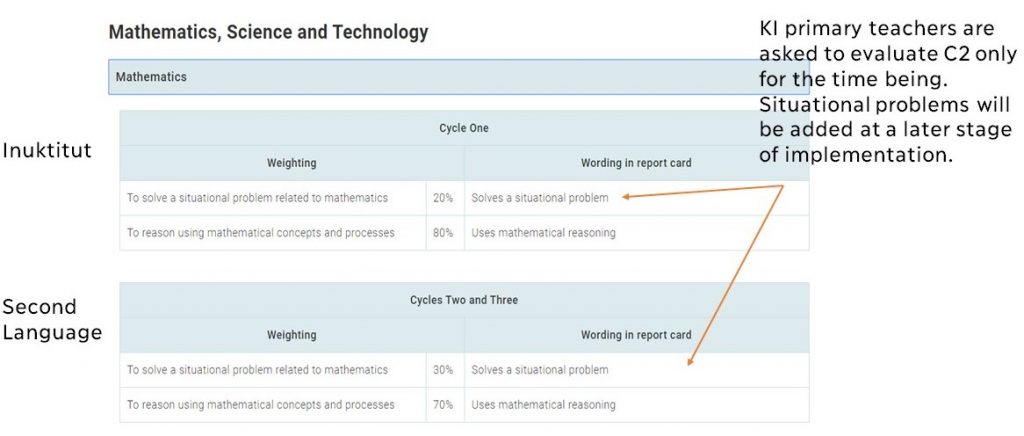 4.4 Progression of Learning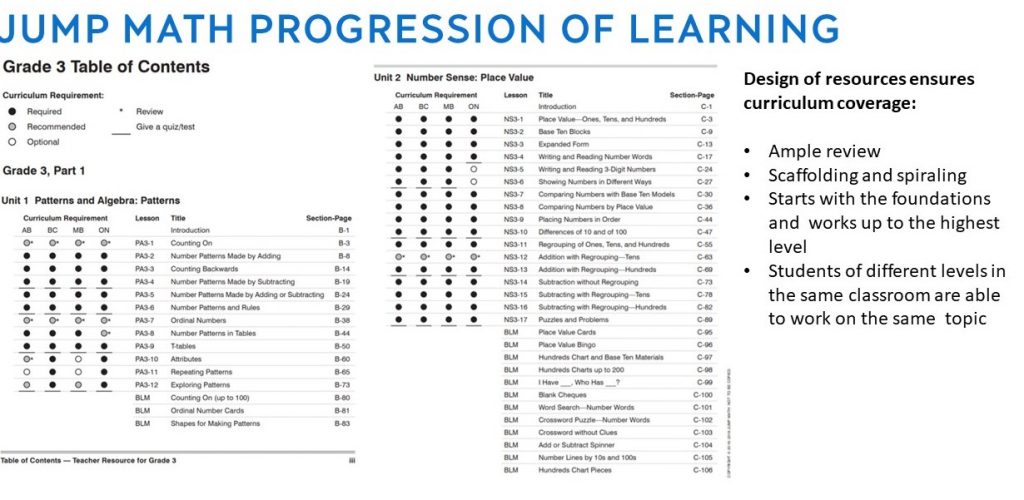 4.
5 Report Card Guidelines
The following table lists the minimal mandatory strands to be evaluated for the 2022-2023 school year. For Term one and two, Number Sense, Patterns and Algebra are mandatory however the other strands will remain open on the report card. Teachers are encouraged to explore the other strands each term according to students' needs.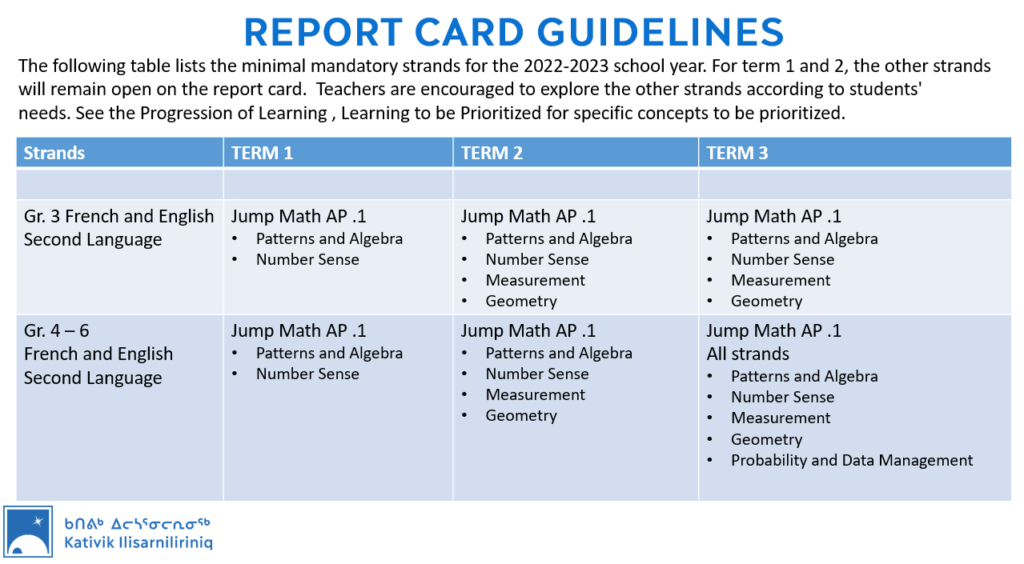 5.
Teacher Support
5.1
Getting Started with JUMP Math
Review lesson plan, paying attention to:
Mental Math section


which skills (one or two) to introduce, practice and assess prior to lesson
Skills in the lesson
link to corresponding Digital Slides, choose, add, edit or modify to support your teaching and student practice
Considerations and decisions in advance:
Prerequisite skills and review
What prompts, activities, manipulatives, extensions?
Effective means of organizing for learning, discussion, practice
How will I assess?
Preview corresponding pages in AP books and decide which questions to assign
Planning time for teachers to work together
Short and Long Term Planning
Planning between Grade Levels
Planning for Grade 3 teachers, Inuktitut, English and French
Planning with Gr. 1 and 2 Second Language teacher (vocabulary)
5.2
JUMP Math Website