Learning Outcome
Read elders' words of wisdom to understand the importance of respecting animals. Students should understand:
– not to mistreat animals;
– that mistreating animals is like killing for the sake of killing and boast on about the catch.
---
Inuit Code of Conduct for Society
This article is part of an Inuit Code of Conduct for Society, along with these other articles: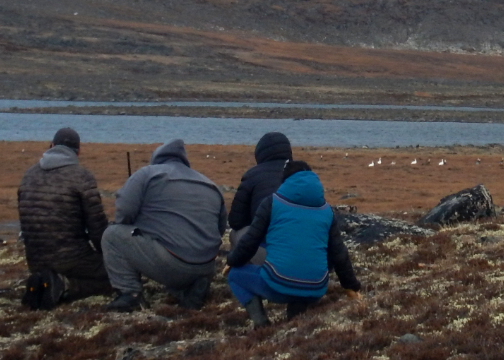 How to teach this skill
Students can read the elders' stories or the teacher can read and explain them.
After reading the stories, students can start discussing the differences between the past and now.
Talk about how Inuit back then thought it was important to treat animals in a certain way. You can use your knowledge and your experience to make it more understandable.
So that the students will not mistreat animals. And respect what the elders have said. Elders share their experiences and talks about what they have heard, and have lived a long time, so what they say is true.
When students finish their reading or are finished being read to, they can start writing their own thoughts and their understanding about how Inuit used to treat animals.
They can also visit an elder, or have someone come to their class to talk about how to treat animals.
Traditional Inuit Words of Advice
ᑖᒃᑯᐊ ᐃᓄᒻᒪᕇᑦ ᐅᖃᐅᑎᔭᐅᒍᑎᒋᖃᑦᑕᓯᒪᔭᖏᑦ ᐆᒪᔪᓂᒃ ᐱᑦᓯᐊᕆᐊᖃᓐᓂᒧᑦ, ᐱᑦᓯᐊᖁᔭᐅᖃᑦᑕᓯᒪᒻᒪᑕ ᖃᓄᐃᑦᑐᑐᐃᓐᓇᓂᒃ ᐆᒪᔪᓂᒃ ᐅᐃᕖᕐᕆᓯᒋᐊᖃᕋᑎᒃ. ᑐᖁᕃᑐᐃᓐᓇᖁᔭᐅᒐᑎᓪᓗ ᐊᑐᕐᓂᐊᖏᑦᑐᓂᒃ.
Elders were taught about how to respect the animals. They were told to respect and not mistreat any kind of animal, and not to kill what they weren't going to use.
Respecting the animals
ᐃᓄᐃᑦ ᐆᒪᔪᓂᒃ ᐱᑦᓯᐊᖁᔨᕙᓚᐅᕐᑐᑦ, ᐆᒪᔪᓂᒃ ᖃᓄᑐᐃᓐᓇᖅ ᐱᐅᓯᖃᕐᕕᐅᖁᔨᒐᑎᒃ, ᐃᓕᐊᕐᕈᖃᖁᔨᒐᑎᒃ ᐃᓅᒍᑎᑐᐊᕆᒐᒥᖏᑦ.



Inuit used to tell people to respect the animals, not to mistreat the animals, not to cause pain to the animals because they are their only livelihood.
ᐆᒪᔪᓂᓪᓗ ᐱᑦᓯᐊᕋᓱᐊᖁᔭᐅᑦᓱᑕ ᑌᒣᑦᑑᕙᓚᐅᕋᑦᑕ. ᐃᓄᑉᐸᖅ ᐅᖃᕐᐸᓚᐅᕐᒪᑦ, "ᑐᒃᑐᓕᐊᓘᓐᓂᒪᒎᖅ ᐃᓄᐃᑦ ᓄᓇᖓᑦ, ᐊᒪᕈᐃᓪᓗᒎᖅ. ᑐᒃᑐᐃᓗ ᒎᑎᐅᑉ ᑎᒍᓚᐅᕐᓂᒪᖏᑦ! ᐃᓄᐃᒎᖅ ᐃᓚᖏᑦ ᒪᒪᕐᓃᔦᑦᓱᑎᒃ, ᐅᙯᔦᑐᐃᓐᓇᓱᑎᒃ ᐱᐅᓯᖃᕐᐸᓂᕐᒪᑕ, ᑐᒃᑐᐃᕈᓚᐅᕐᓂᒪᑦ!" "ᑌᒫᒃ ᐱᑦᓯᐊᕋᓱᐊᖕᖏᑐᐃᓐᓇᑐᐊᕐᒥᐸᑕ ᐊᓯᐅᓂᐊᕐᒥᔪᑦ!", ᓚᔭᐅᕙᓚᕐᒪᑕ. ᑐᒃᑐᖃᓕᕐᑑᒐᓗᐊᖅ ᐅᓪᓗᒥ ᑭᓯᐊᓂ ᑲᒪᑦᓯᐊᕆᐊᖃᕐᑐᒍᑦ. ᑌᒫᕌᓗᒃ ᑲᒪᑦᓯᐊᕆᐊᖃᕐᑐᒍᑦ ᑕᒪᒃᑯᓂᖓ ᐆᒪᔪᓂᒃ ᐱᑦᓯᐊᕋᓱᐊᕐᓗᒋᑦ. ᐃᓕᐊᕐᕈᖃᓚᑳᓐᓂᒥᒃ ᐆᒪᔪᒥᒃ ᐱᑕᖃᕆᐊᖃᕐᐸᓚᐅᖕᖏᑐᒍᑦ, ᕿᒻᒥᓂᓪᓘᓃᑦ.



We were told to respect animals. Inukpak used to say, "There was plenty of caribou on the land including wolves. Caribous were taken by God! Some people used to take the best parts, just taking tongues out and then there were no more caribou!" "If Inuit won't respect them, they will not be around again!", that's what they use to say. Today, there is plenty of caribou around but we have to be careful. We really have to be respectful of animals. We are not allowed to disrespect animals causing them pain, even to the dogs.
ᐅᓇ ᐊᑐᕐᓯᒪᓪᓚᕆᒻᒥᒪᑦ ᐅᓂᒃᑳᓕᕐᕿᑖᕐᑕᐅᕙᓚᐅᕐᒥᒪᑦ. ᑌᓐᓇ ᐊᓇᐅᓕᓲᕕᓈᓘᒻᒪᑦ ᕿᒻᒥᒥᓂᒃ, ᐊᑕᐅᓯᕕᑦᑕᒥᓂᒃ ᑕᖃᑦᑐᐊᓘᕋᑕᕐᑎᓗᒍ. ᑌᒪᖕᖓᑦ ᐅᐃᒪᑎᑦᓱᒍ, ᐊᕐᓱᕈᑦᑎᓱᒍ, ᐊᓇᐅᓕᐊᓗᑦᓴᑐᐃᓐᓇᓲᕆᑦᓱᒍ! ᕿᒻᒥᒥᓄᑦ ᓚᔭᐅᓚᐅᕐᑐᕕᓂᖅ, "ᐱᔪᒪᖕᖏᑕᕐᓂᒃ ᐅᓪᓗᒥ ᐱᓂᐊᓕᕐᖁᑎᑦ!" "ᑌᒫᒃ ᒎᑎ ᐆᒪᔪᒃᑰᕈᓐᓇᑐᖅ!", ᓚᕙᓚᐅᕐᑐᖅ ᐃᓄᑉᐸᖅ.



This really happened and they used to recount the story many times. The person used to beat his lone dog, even if it was tired. Always made the dog rush, gave it heavy-ladened sled to pull, would always beat it for no good reason! His dog told him, "You'll get what you don't want to get today!" "That's how God can come through an animal!", Inukpak used to say.
ᑕᒪᒃᑯᐊ ᐃᑲᔪᕐᑎᓴᓕᐊᖑᓐᓂᒪᑕ ᕿᒻᒦᑦ ᐱᑦᓯᐊᑕᐅᑐᐃᓐᓇᖁᔭᐅᕙᓚᐅᕐᒪᑕ. ᑌᒪᖕᖓᑦ ᐆᒥᓇᕐᑐᓂᒃ ᓄᐃᑦᓯᕙᓚᐅᕐᒥᔫᒐᓗᐊᑦ, ᐅᐃᕖᑦᑑᓂᑯᒥᓄᑦ ᑌᒣᑦᑐᖑᐊᒍᕙᓚᐅᕐᒥᔪᐃᑦ. ᐃᑲᔪᕐᑎᒋᑦᓯᐊᑕᐅᒐᒥᒃ ᐱᑦᓯᐊᑕᐅᖁᔭᐅᕙᓚᐅᕐᒪᑕ.



Dogs were given to us to be our helpers. We were told to care for the dogs. Even though they used to do bad things because they're wild. They were helpful, so we told do treat them fairly.
ᕿᒻᒥᓂᒃ ᑕᑯᓐᓈᓲᒍᓕᕐᒥᒐᒪ ᕿᒻᒥᐊᕋᕆᔭᐅᑦᓱᑎᓗ, ᐃᓕᐊᕐᕈᐊᐱᐅᑦᓱᑎᓪᓗ, ᓂᕆᔪᐃᑦᑐᐊᐱᓐᓂᒃ, ᐃᐱᕐᓯᒣᓐᓇᑐᐊᐱᓐᓂᒃ. ᑕᒪᒃᑯᐊ ᑌᒣᒐᑦᓴᐅᔭᖏᒻᒪᑕ ᖃᓄᓕᒫᖅ ᐱᖃᕋᓱᐊᑐᐊᕈᓂ ᐃᓄᒃ ᐱᑦᓯᐊᑐᑦᓴᐅᕗᖅ. ᐱᖁᑎᒥᓂᒃ, ᐆᒪᔪᖁᑎᒥᓂᒃ, ᕿᒻᒥᖁᑎᒥᓂᓪᓘᓃᑦ ᑲᒪᑦᓯᐊᑐᑦᓴᐅᕗᑦ. ᑌᒫᒃ ᓱᒃᑯᐊᓘᓕᕐᓱᑎᒃ ᑐᖁᑐᐃᓐᓇᓯᒪᔪᑦ. ᑕᑯᖃᑦᑕᓯᒪᕗᖓ ᕿᒻᒥᓂᒃ ᐃᐱᕐᓯᒣᓐᓇᓱᑎᒃ ᐃᓄᒻᒥᓄᑦ ᑲᒪᒋᔭᐅᖕᖏᓗᐊᕐᓂᑯᒥᓄᑦ. ᑌᒣᒋᐊᖃᖕᖏᑐᒍᑦ ᐆᒪᔪᓂᒃ, ᐃᓕᐊᕐᕈᖃᕆᐊᖃᖕᖏᑐᒍᑦ. ᑕᒪᒃᑯᐊ ᒎᑎᒧᑦ ᓄᐃᑎᑕᐅᓐᓂᒪᑕ ᐃᓘᓐᓇᑕ ᐃᑲᔪᕐᑐᓴᓕᐊᒍᓐᓂᕋᑦᑕ. ᐃᓄᑉᐸᖅ ᐅᖃᕐᐸᓚᐅᕐᒪᑦ, ᐅᖃᐅᓯᕆᕙᓚᐅᕐᑕᖓᓂᒃ ᐅᖃᕐᐳᖓ.



I also see owned puppies, that were mistreated, not fed and always tied-up. They're not suppose to be treated that way. If a person owns things, they have to treat them right. A person has to take care of his belongings, his animals, and his dogs. I saw many dogs die from being tied up and not being taken care of by their owner. We shouldn't mistreat animals. They were created by God, for all of us to help each other. I am telling you what Inukpak used to say.
ᐃᒫᒃ ᐊᑖᑕᑦᓯᐊᑰᒃᑲ ᐅᖄᕙᓚᐅᕐᒥᒪᓃᒃ, "ᑌᑦᓱᒪᓂᐊᓗᒎᖅ ᑐᒃᑐᐃᑦ ᐊᒥᓱᕕᓃᑦ. ᑌᒃᑯᐊ ᓴᐅᓪᓗᒉᑦ ᐃᓐᓂᐸᓪᓚᐅᑎᖃᓐᓂᔭᖏᑦᑐᑦ, ᖁᑭᐅᑏᑦ ᓯᕗᓪᓕᐹᓪᓗᑐᕕᓃᑦ. ᐃᒃᑭᑎᒎᖅ ᐃᑭᓕᕋᒥ ᓱᐴᓲᒍᒻᒪᑦ. ᑌᒣᓘᕐᑐᕉᔮᕐᖄᓱᓂ ᑭᓯᐊᓂ ᓯᒃᑭᐸᑦᑐᕕᓂᕐᒥᒃ ᐅᖄᕙᓚᐅᕐᑑᒃ. ᑌᒃᑯᐊ ᐃᓐᓂᐸᓪᓚᐅᑎᓖᑦ ᑕᑯᓐᓈᐸᓕᓚᐅᕐᑕᑲ ᓱᒋᐊᓚᐅᕐᓯᒪᖕᖏᑲᓗᐊᕐᓱᖓ ᑌᒣᑦᑐᒧᑦ. ᑌᒃᑯᐊ ᖁᑭᐅᑎᐅᓚᐅᕐᓯᒪᓕᕐᑎᓗᒋᑦ, ᖁᑭᐅᑎᑖᓕᕐᑐᕕᓃᑦ ᐅᖓᓯᑦᑐᓂᐅᑎᓂᒃ. ᖁᑭᐅᑎᖃᓕᕋᒥᒃ ᐅᖓᓯᑦᑐᓕᒐᕈᓐᓇᑐᓂᒃ ᐅᖄᕙᓚᐅᕐᑑᒃ ᑐᒃᑐᐃᑦ ᐊᒥᓱᕕᓃᑦ ᑌᑦᓱᒪᓂ. ᑌᒣᑦᑐᓂᒃ ᖁᑭᐅᑎᖃᓕᕋᒥᒃ, ᖁᓖᖓ ᕿᕐᓂᑕᑦᓯᐊᒍᖕᖏᑐᐊᕐᒪᑦ, ᐳᑭᖓᓗ ᖃᑯᕐᑕᓯᐊᒍᖕᖏᑐᐊᕐᒪᑦ, ᐃᓛᓐᓂ ᐅᙯᑦᓱᒍ, ᐃᓛᓐᓂ ᐅᓕᐅᑌᕐᓱᒍ, ᐃᓚᖕᖓᔭᓇᒍ ᐃᓛᓐᓂ, ᕿᒣᕙᓕᕐᑐᕕᓃᑦ, ᐊᓐᓄᕌᑦᓴᓯᐅᓕᕋᒥᒃ ᒥᕐᖁᖏᑦ ᓈᒪᓕᕐᒪᑕ. ᑌᒣᑉᐸᓕᕋᒥᒃ ᑐᒃᑐᐃᒎᖅ ᐊᒥᓱᕕᓂᐅᒐᓗᐊᕐᓱᑎᒃ ᑭᑦᑐᕆᐊᓄᑦ ᑐᖁᕋᕐᑖᓗᕐᕉᔮᕐᓱᑎᒃ ᓄᖑᐊᓗᑦᓴᓚᐅᕐᑐᕕᓂᕐᓂᒃ ᐅᖄᕙᓚᐅᕐᑑᒃ! ᑌᒣᑉᐸᓕᕋᒥᑦ ᑳᕌᓗᑦᓴᐸᓕᕋᒥᒃ, ᓄᖑᒻᒪᑕ ᑐᒃᑐᐃᑦ. ᑕᒪᒃᑯᐊ ᓂᕿᖏᑦ ᐊᓯᐸᑐᐃᓐᓇᑕᐅᕙᓕᕋᒥᒃ, ᐃᒫᒃ ᐅᖄᕙᓕᓚᐅᕐᑑᒃ ᐱᕕᒐᓂ ᐅᓯᒍᓐᓇᓗᒍ, ᐁᒍᓐᓇᓗᒍᓘᓐᓃᑦ, ᓂᕿᒥᒃ ᐃᑦᑕᑯᑦᓴᐅᖏᑦᑐᒥᒃ ᐅᖄᕙᓕᓚᐅᕐᑑᒃ.

My grandparents used to say, "There used to be plenty of caribou. Those muskets didn't have flash pan, the very first guns. When a match is lit it blows. They would talk about how it would go like that first and then it would fire. I saw those that had flash pan, but I never fired one. After these guns, then they got the guns which could fire long-range. When they got the guns that could fire long-range, there used to be plenty of caribous. When they got those guns, if the caribou's back were not dark , and their tummy weren't white enough, sometimes they would take the tongue out, sometimes the loin, sometimes not taking any meat, just leaving the carcass, when the caribou skin was at it's best for clothing. At the end, it seemed that the caribou were killed by all the mosquitoes, and they were all gone! After all they faced starvation, because there was no caribou left because they wasted all the meat! They would say, if you are able to carry and/or get it later on with, never waste the meat.
ᑰᑦᔪᐊᕌᐱᒻᒧᑦ ᑐᒃᓯᐊᕆᐊᕐᐸᑲᒥᒃ ᐊᔪᕿᑦᑐᐃᔨᒧᑦ ᓵᒋᐊᕐᑎᑕᐅᓯᒪᓕᕐᓱᑎᒃ ᐃᒫᒃ ᐅᖃᐅᑎᔭᐅᕙᓕᕐᑐᕕᓃᑦ, "ᐃᓄᑐᙯᑦ ᑭᓯᐊᓂ ᓄᖑᑉᐸᑕ ᑐᒃᑐᐃᑦ ᐅᑎᕈᒫᓕᕆᕗᑦ!" ᓚᔭᐅᕙᓕᕐᑐᕕᓃᑦ. ᓱᓕᔪᖅ, ᓱᓕᓪᓚᕆᑦᑐᖅ ᑐᒃᑐᐃᑦ ᐅᑎᕐᓯᒪᓕᕆᕗᑦ !



At the time they used to go to church at Kuujjuaraapik, and had been converted by the minister, they were told, "Only when all the elders are gone, the caribou will return!" It is true, it's really true, the caribou has returned!
ᑕᒪᒃᑯᐊᓗ ᐊᔪᕿᑦᑐᐃᔨᐅᑉ ᐅᖄᕙᓐᓂᒪᖏᑦ ᖁᐸᓄᐊᑦ ᐃᓕᐊᕐᕈᒋᓚᑳᒍᓐᓀᓗᒋᑦ. ᑌᒫᒃ ᓱᓇᖃᕋᓂ ᓯᓚᕐᔪᐊᖅ ᖁᕕᐊᓇᕐᑐᖃᓚᖓᖕᖏᒪᑦ, ᖁᕕᐊᓇᕐᑐᒥᒃ ᓄᐃᑕᒃᑫᓂᕐᓴᐅᖁᑦᓱᒋᑦ ᑕᒪᒃᑯᐊ ᐆᒪᔪᐃᑦ ᓂᕿᒧᑦ ᐊᑐᕐᑐᓴᐅᔮᖕᖏᑲᓗᐊᕐᑎᓗᒋᑦ ᓄᐃᑎᑕᐅᓲᒍᒻᒪᑕ ᓂᐱᐊᐱᖏᓪᓗ, ᐃᓱᒪᒋᓗᒋᑦ ᒎᑎᐅᑉ ᓄᐃᑎᓯᒪᒻᒪᖏᑦ. ᐆᒥᓇᕐᑐᒥᒃ ᓄᐃᑎᑦᓯᒐᓱᐊᕆᐊᖃᑦᔭᖏᓐᓇᑕ ᑌᒣᓕᐅᕐᑕᐅᓲᒍᒐᑦᑕ.



The minister used to say, do not cause pain to the birds. If the world has nothing in it, it will be a sad place. The animals are there so the world will have life, even if they're not used for food, they're created for their beautiful sounds. This is why God created them. We're told not to create hateful things.
ᐅᓇ ᐊᑯᓂᓂᑕᑐᐃᓐᓇᖅ ᐅᓂᒃᑳᓚᖓᒻᒥᔭᕋ ᒥᑭᒋᐊᕐᓂᐊᓲᒍᓕᕐᑎᓗᒋᑦ. ᑌᓐᓇᒎᖅ ᐊᓪᓚᒃ ᖃᐅᔨᒪᔭᐅᓲᒍᒻᒪᑦ ᑐᓗᒑᓗᐊᓗᒻᒥᒃ ᕿᕐᓂᑕᕐᑐᕆᓚᐅᕐᑐᕕᓂᖅ. ᐊᑭᑐᔪᐊᓘᕙᓐᓂᒪᑕ ᕿᕐᓂᑌᑦ ᑎᕆᒐᓐᓂᐊᑦ. ᐃᓕᐊᕐᕈᖃᓯᓚᐅᕐᑐᕕᓂᖅ ᑐᓗᒑᓗᑦᓯᒪᔭᒥᓂᒃ ᑲᒡᒐᑐᕕᓂᐅᒐᒥ ᕿᕐᓂᑕᕋᑦᓴᒥᓂᒃ. ᒥᕐᖁᐃᔭᕐᓱᒍ ᓱᓇᓕᒫᑦᓯᐊᖏᑦ ᒥᕐᖁᓕᒫᑦᓯᐊᖏᑦ ᓄᖑᑦᓱᒋᑦ, ᑕᒪᒃᑯᐊ ᐃᓴᕈᖏᑦ ᑭᓯᐊᓂ, ᐸᐱᖏᓪᓗ ᐊᒥᐊᒃᑯᒋᑦᓱᒋᑦ ᑎᖏᑎᑦᓯᓚᐅᕐᑐᕕᓂᖅ! ᐅᐃᕖᑦᑑᖁᔭᐅᖕᖏᑑᒐᓗᐊᖅ, ᐁᑉᐸᒥᓄᑦ ᐃᓂᕐᑎᑕᐅᓚᐅᕐᑐᕕᓂᖅ, ᑌᒣᖁᓇᒍ. ᑌᓐᓇᒎᖅ ᑐᓗᒑᓗᒃ ᒥᕐᖁᖃᑦᔭᒍᓐᓀᓱᓂ ᑎᖏᓚᐅᕐᑐᕕᓂᖅ ᖁᒻᒧᑦ ᓂᐸᖏᕐᓱᓂ ᐅᑭᐅᕌᓗᒻᒥ.



ᑌᒫᒎᖅ ᑌᒃᑯᐊ ᐊᓪᓛᒃ ᐊᓂᕐᕋᓯᕘᒃ. ᐱᕐᓯᑐᐊᓘᓕᓚᐅᕐᓯᒪᔪᕉᖅ. ᐊᓂᕐᕌᓂᓚᐅᕐᓯᒪᖕᖏᓚᖅ ᐁᑉᐸᖓ! ᑌᓐᓇ ᐃᕆᑕᕐᑐᕕᓂᖅ ᐊᓂᕐᕌᓂᓚᐅᕐᓯᒪᖕᖏᓚᖅ ᐱᕐᑐᒧᑦ ᓱᒃᑯᑕᐅᑦᓱᓂ! ᐁᑉᐸᖓ ᐃᓅᔪᕕᓂᐅᒐᓗᐊᖅ! ᑌᒣᑦᑐᖃᓚᐅᕐᑐᕕᓂᐅᓂᑯᖓᓄᑦ, ᑕᒪᒃᑯᐊ ᐆᒪᔪᐃᑦ ᐃᓕᐊᕐᕈᓚᑳᒍᒋᐊᖃᖕᖏᓂᖏᑦ ᐅᖃᕐᑕᐅᕙᓚᐅᕐᒪᑕ, ᐅᓪᓗᒥᒧᑦ ᑌᒣᑦᑑᒪᑦ. ᓱᓇᒋᓂᐊᕐᓇᒍ ᐆᒪᔪᖅ ᑐᖁᑕᐅᖁᔭᐅᖕᖏᑐᖅ, ᐃᓄᒻᒧᑦ ᐅᑐᕐᑐᓴᓕᐊᖑᓯᒪᒻᒪᑦ ᐆᒪᔪᖅ!

I will also tell this story which happened long ago, when people used to trap. This story is known. There was once a Cree who thought he caught a black fox, when in fact, he had caught a raven. Black foxes were expensive back then. He plucked all the feathers off the raven, except for the wings and the tail and let it go! He was told not to do that by his hunting companion. That raven flew straight up without any feathers, where it would not be seen anymore, during the cold winter!

Then those two Crees started travelling home. Then it became stormy. One of them never made it home! The one who plucked the raven never made it from the storm! His hunting companion was fine! For this reason, we were told not to harm the animals, up to today. If an animal is not going to be eaten, it shouldn't be killed, because its was created for humans to eat.
ᐆᒪᔪᐃᑦ ᐃᓕᐊᕐᕈᒋᓚᑳᒐᑦᓴᐅᖏᑦᑐᑦ, ᑐᖁᕋᑐᐃᓐᓇᕋᑦᓴᐅᖏᑦᑐᑦ ᐊᑐᕐᓂᐊᓇᒋᑦ. ᒪᓕᒐᖅ ᑕᒪᓐᓇ ᐃᓄᐃᑦ ᐱᐅᓯᑐᖃᖓ ᑌᒣᓕᖓᔪᖅ.

Animals shouldn't be harmed, or killed if they will not be used. That is Inuit tradition.
Credits
We would like to thank the following people for sharing knowledge about Inuit traditional ways.
Johnny Manumi Inukpuk
Adamie Niviaxie
Taamusi Qumaq
Eva Ilimasaut
Eyetsiak Simigak
Thomassie Kudluk
Mosesie POV
Mitiarjuk Nappaluk
Raiki Najummi Augiak
Annie Alaku
Pasha Simigak
Qipitaq Arnaituk
Issak Uumajualuk
Naalak Nappaaluk
Annie Grey
Velesie Annahatak
Kusugaliniq Ilimasaut
Tivi Eetok
We would like to thank the following organizations for giving us photos and for categorizing them: Avataq Cultural Institute and Kativik Ilisarniliriniq
We would like to thank the elders who were asked to record by Avataq Cultural Institute.
We would like to thank the following people who compiled and organized information:
Betsy Annahatak
Mary Elijassiapik