Learning Outcome
Have students understand that being disciplined is not form of punishment. Inuit were disciplined when they would do something bad, and were made to understand the way to a good life.
---
Inuit Code of Conduct for Society
This lesson is part of an Inuit Code of Conduct for Society, along with these other lessons: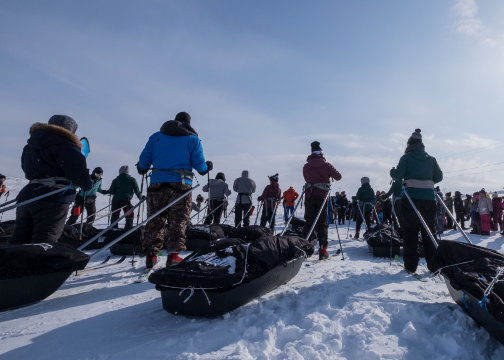 How to teach this skill
Students can read the elders' stories or the teacher can read and explain them.
After reading these stories, student can start discussing the differences of discipline between the past and now.
In the past, Inuit use to discipline on a regular basis, so that the person would not have a distorted life. A person who has never been discipline could potentially behave inappropriately and treat others badly. You can use your knowledge and your experience to make it more relatable.
Tell them to build on the discipline they have received and follow what the elders say. Elders share their experiences and they have lived a very long time, and what they say is true.
Once students have finished reading or being read to, they can start writing their own thoughts and their understanding of how Inuit were disciplined.
They can also visit an elder, or have someone come to their class to talk about the discipline they received.
Traditional Inuit Words of Advice
ᑖᒃᑯᐊ ᐃᓄᒻᒪᕇᑦ ᐃᓂᕐᑎᑕᐅᒍᑎᒋᖃᑦᑕᓯᒪᔭᖏᑦ ᐊᖓᔪᕐᖄᒥᓄᑦ, ᐃᓄᓐᓄᓗ. ᐃᓂᕐᑎᑕᐅᖃᑦᑕᓯᒪᒐᒥᒃ ᐃᓅᓯᖓ, ᐃᓅᖃᑎᒌᓐᓂᖓᓗ ᓲᖑᔫᓚᐅᕐᑐᖅ, ᓄᓪᓚᖓᑦᓯᐊᓱᑎᓪᓗ. ᑌᒫᒃ ᑭᓯᐊᓂ ᐱᑦᓯᐊᖃᑦᑕᐅᑎᓗᑎᒃ ᐃᓅᖃᑎᒌᑦᓯᐊᓂᐊᕋᒥᒃ.
This is how children were disciplined by their parents and other people. This shaped their personal life and their social life make them strong and settled. This ensured they could get along with other people, by being good to one another.
Discipline
ᐃᓄᐃᑦ ᐃᓂᕐᑎᕆᐅᑎᖏᑦ ᐃᓄᓐᓂᒃ ᐃᓅᖃᑎᒌᑦᓯᐊᖁᔨᑦᓱᑎᒃ. ᐱᐅᓯᐅᑦᓯᐊᖏᑦᑐᑦ ᐊᑐᕐᑕᐅᓕᕋᒥᒃ ᐃᑐᒥᑦᓯᓲᒍᒻᒪᑕ ᐃᓅᖃᑎᒌᓂᒃ.



Inuit used discipline measures so that people would get along. When people acted cruelly, they would break the trust between people.
ᕿᑐᕐᖓᖅ ᑐᑭᓯᒪᑎᑕᐅᒍᑎᒥᓂᒃ ᐊᑐᕐᓂᓗᒋᐊᑐᐃᓐᓇᖃᑦᑕᐸᑦ ᐃᓂᕐᑎᑕᐅᒋᐊᓕᒃ ᐊᖏᕐᑎᑕᐅᒋᐊᓕᒃ, ᐊᖏᕐᑎᕆᐊᓪᓚᕆᓪᓗᒍ ᓱᓇᐅᑦᓴᖏᓕᑉᐸᓕᐊᑐᐃᓐᓇᓲᒍᒻᒪᑕ ᐊᖓᔪᕐᖄᒥᓂᒃ, ᐃᓅᖃᑎᒥᓂᓪᓗ.



If a child is often disciplined, it is important to reason with the child and make them understand the reasons behind it so that they dont disrespect or undermine their parents or other people.
ᐃᓅᖃᑎᒥᓂᒃ ᒪᖓᑦᓯᖁᔭᐅᕙᓐᓂᖏᑦᑐᑦ. "ᐅᖃᐅᓯᑦᓴᖃᕈᓂᒎᖅ" ᐃᓄᒻᒥᒃ ᑌᑦᓱᒥᖓ ᐅᐯᕙᑦᑐᕕᓃᑦ, ᐅᖄᖃᑎᒋᓯᑦᓱᒍ.



Inuit were told not to gossip about other people. "If they had anything to say about someone", they used to confront the person and talk with them.
ᐃᓂᕐᑎᕆᕙᒋᐊᖃᕐᖁᒍᑦ ᑎᓪᓕᑐᑦᓴᐅᖏᓐᓂᒥᒃ, ᓴᓪᓗᑐᑦᓴᐅᖏᓐᓂᒥᒃ, ᐊᕐᓇᑖᕆᓂᐊᖕᖏᑕᒥᓂᒃ, ᐊᖑᑎᑖᕆᓂᐊᖕᖏᑕᒥᓂᓪᓗ ᑲᒪᒋᐊᖃᖕᖏᓂᖏᓐᓂᒃ, ᐅᖃᐅᓯᕐᓗᒥᓪᓘᓃᑦ ᒥᓇᕆᐊᖃᖕᖏᓂᖏᓐᓂᒃ.



We have to be disciplined not to steal, not to lie, not to become involved with someone we don't intend to marry or spread rumors about people.
ᐃᓅᖃᑎᓐᓃᕕᓯ ᐊᑭᕋᕐᑐᕋᓱᐊᕐᑐᕕᓂᐅᒐᓗᐊᕈᑦᓯ ᑭᖑᓂᖓᓂ ᐃᓱᕐᕆᓛᑦᔭᖏᓪᓚᓯ.



Even if you try to go against other people, in the end you will be uncomfortable in what you have done.
ᐱᐅᖕᖏᑐᒥᒃ ᖃᐅᔨᒪᑦᓱᓂ ᐃᓛᓃᑦᑐᖅ ᑖᓐᓇ ᐸᓯᔭᐅᒍᑎᑦᓴᓕᒃ, ᐃᓄᓐᓄᑦ ᑌᒣᖏᓐᓇᑐᕆᔭᐅᑦᓱᓂ ᐅᓇᒻᒥᒋᔭᐅᒋᐊᖃᖕᖏᑐᖅ, ᐃᓱᒪᖓᓂᒃ ᐃᓅᑉ ᖃᐅᔨᒪᔪᖃᑦᔭᖏᒻᒪᑦ. "ᐃᓅᖃᑎᑦᓯᓂᒃ ᐅᓇᒻᒥᓱᑉᐸᓂᐊᑦᔭᖏᓪᓚᓯ"-ᓚᔭᐅᕙᓚᐅᕋᑦᑕ ᐊᔪᕿᑦᑐᐃᔨᐅᕙᓚᐅᕐᑐᓄᑦ, ᑌᒣᑦᑑᒋᐊᖃᕐᐳᒍᑦ.



Someone who knowingly and purposefully does something wrong should be blamed. If a person continues to act this way, it is important not to try and get even with them because it is impossible to know what is going on in the other person's mind. We were told by the minister "not try to get even with others", so we have to control ourselves and behave.
ᐃᓚᒥᓄᑦ ᐃᓂᕐᑎᑕᕕᓂᖅ ᓇᕐᖓᓂᕐᒥᒃ, "ᐃᓅᓯᕗᒎᖅ ᐱᒋᖕᖏᓇᑦᑎᒍ." ᓇᖕᖓᖁᔭᐅᓯᒪᖕᖏᑐᒍᑦ, ᓇᕐᖓᕈᑎᐅᔪᑦ ᑌᒣᓕᑐᐃᓐᓇᕆᐊᖃᕐᒪᑕ.



Someone who judges another person should be disciplined because we are taught that "our life is not our own". We are not allowed to judge or we too become like them.
ᕿᑐᕐᖔᐱᓯᓐᓂᒃ ᑕᑯᓐᓈᓂᕐᓗᑫᕙᓐᓂᐊᔭᖏᓪᓚᓯ -ᒋᐊᖃᑦᔭᖏᓐᓇᑕ. ᑕᒪᒃᑯᐊ ᓯᓚᑐᒍᑎᒋᒋᐊᖃᓕᕐᑕᕗᑦ ᐃᓄᒻᒪᕆᑎᒍᑦ ᐅᐃᕖᓐᓇᑐᐃᑦ, ᐃᑦᓯᒎᓐᓃᑦ, ᐃᒥᐊᓗᐃᑦ, ᓰᑲᔨᐊᕐᓗᐃᓗ.



Don't let your children see disruptive behaviour. We, as adults, shouldn't do bad things, lust over someone, abuse alcohol and drugs.
ᑕᒪᒃᑯᐊ ᐃᓄᐃᑦ ᐱᐅᓯᕆᕙᑦᑕᕕᓂᖏᑦ ᐊᓯᐅᑐᐃᓐᓇᓚᖓᓕᕐᒪᑕ ᐅᓂᒃᑳᕋᓱᐊᕐᖁᖓ, ᖃᖓ ᑐᖁᕕᑦᓴᕗᑦ ᖃᐅᔨᒪᑦᔭᖏᓐᓇᑎᒍᑦ, ᐅᐸᓗᙰᕐᓯᒪᑦᓯᐊᕆᐊᖃᕐᓂᕋᕐᑕᐅᒐᑦᑕ ᓱᓕᔪᖅ. ᐃᓚᕗᓪᓗ ᐅᐸᓗᕈᑎᒋᓂᐊᕐᑐᓴᕆᖕᖏᓚᕗᑦ -ᓚᔭᐅᓲᒍᒐᑦᑕ ᑕᒪᓐᓇ ᓱᓪᓕᑕᐅᒻᒪᑦ ᐃᓱᒪᖃᑦᓯᐊᓂᐊᕐᖁᒍᑦ. ᑖᕙᖕᖓᓂᑦ ᔩᓱᓯ ᑎᑭᒍᒫᕐᓂᕋᕐᑕᐅᒪᑦ ᓂᕆᐅᕝᕕᒋᖕᖏᑕᑦᑎᒍᑦ, ᓄᕗᔦᒎᖅ ᐅᖓᑖᒍᑦ ᑎᑭᓛᕐᓂᐊᓂᕋᕐᑕᐅᓯᒪᒻᒪᑦ, ᖃᖓᐅᔪᒫᕐᒪᖔᑦ ᖃᐅᔨᒪᑦᔭᖏᓐᓇᑕ. ᐊᕐᓱᕈᓐᓇᓲᕌᓘᒻᒪᑦ, ᐃᓚᖓᒍᓪᓗ ᐊᓕᐊᓇᕐᑑᒐᓗᐊᕐᓱᓂ ᑌᒣᑦᑑᒪᑦ ᐃᓅᓯᕗᑦ.



I'm telling the stories about Inuit behaviours otherwise they will disappear and we don't know when we will die. We have to be prepared and that's true. We have been told that we cannot save ourselves by trying to save our families, so we have to think wisely.
"ᐋᓐᓂᐊᓴᓕᐅᕐᓱᑕᒎᖅ ᐊᑭᕋᕐᑐᓲᒍᒐᑦᑕ." ᐊᑭᕋᕐᑐᐸᓐᓂᐊᔭᖏᓪᓚᓯ ᐊᓈᓇᒃᑯᓯᓐᓂᒃ, ᐊᑖᑕᒃᑯᓯᓐᓂᒃ, ᐁᑉᐸᑯᑦᓯᓂᒃ, ᐋᓐᓂᐊᓗᐊᕈᒫᖕᖏᓇᑦᓯ. ᐃᓅᖃᑎᑦᓯᓃᕕᓯ ᓱᓇᐅᑦᓴᖏᑦᑐᐊᓘᕙᓐᓂᐊᔭᖏᓪᓚᓯ, ᐃᓱᕐᕆᓂᕐᓴᐅᓛᕋᑦᓯ, ᐃᓱᒫᓗᖕᖏᓂᕐᓴᐅᓛᕋᑦᓯᓗ, ᒫᓂ ᓄᓇᒥ ᐃᓅᖏᓐᓇᓂᐊᑦᔭᖏᓐᓇᓯ.



"When we are against other people, we create pain." Don't go against our mothers, your fathers, your spouses and you will be spared pain. Don't be rebellious towards other people so that you will feel comfortable and have nothing to worry about because you won't live forever.
ᐱᔭᑦᓴᖃᕐᑎᓗᒍ ᑲᒃᑲᓛᖅ ᐱᒋᐅᕐᓂᐅᓕᑐᐊᕋᒥᒃ ᓯᓂᑐᐃᓐᓇᑎᑕᐅᓲᒍᓐᓂᔭᖏᑦᑐᑦ ᓯᓂᒐᓗᐊᕐᒪᑕ ᑐᐹᕐᑕᐅᓲᕕᓃᑦ.



Make sure the children are busy. Sleeping in wasn't option way back when. Kids who slept late were woken up.
Credits
We would like to thank the following people for sharing knowledge about Inuit traditional ways.
Johnny Manumi Inukpuk
Adamie Niviaxie
Taamusi Qumaq
Eva Ilimasaut
Eyetsiak Simigak
Thomassie Kudluk
Mosesie POV
Mitiarjuk Nappaluk
Raiki Najummi Augiak
Annie Alaku
Pasha Simigak
Qipitaq Arnaituk
Issak Uumajualuk
Naalak Nappaaluk
Annie Grey
Velesie Annahatak
Kusugaliniq Ilimasaut
Tivi Eetok
We would like to thank the following organizations for giving us photos and for categorizing them: Avataq Cultural Institute and Kativik Ilisarniliriniq
We would like to thank the elders who were asked to record by Avataq Cultural Institute.
We would like to thank the following people who compiled and organized information:
Betsy Annahatak
Mary Elijassiapik