Learning Outcome
Listening and obeying helps a person's life and is the Inuit way. Students should pay careful attention and conform to the words of their elders and guardians.
---
Inuit Code of Conduct for Society
This lesson is part of an Inuit Code of Conduct for Society, along with these other lessons: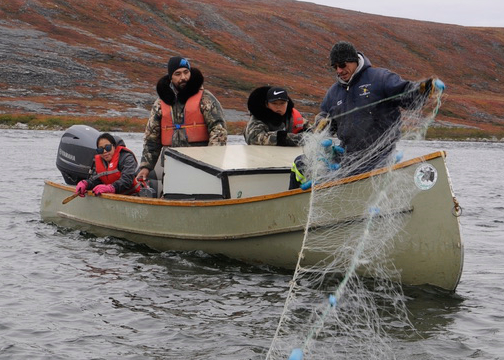 How to teach this skill
Students can read the elders' stories or the teacher can read and explain them.
After reading these stories, students can start discussing the differences of listening between the past and now.
Tell students how in the past Inuit believed that obeying was very important. They used to listen and were afraid to say no when asked to do something. You can use your knowledge and your experience to make it more understandable.
Tell them to respect and obey the knowledge of their elders, because elders are stating what they have been through. They have been around a long time and they're telling the truth.
When students have finished reading or being read to, they can start writing their own thoughts or their understanding about how Inuit thought obeying was important.
They can also visit an elder, or have someone come to their class to talk about how Inuit perceived obeying. Students can ask questions and write what they understood.
Traditional Inuit Words of Advice
ᑖᒃᑯᐊ ᐃᓄᒻᒪᕇᑦ ᐅᖃᐅᑎᔭᐅᒍᑎᒋᖃᑦᑕᓯᒪᔭᖏᑦ ᓈᓚᓐᓂᒧᐊᖓᔪᑦ. ᓈᓚᑦᓯᐊᖁᔭᐅᖃᑦᑕᓯᒪᒻᒪᑕ ᐅᖃᐅᑎᔭᐅᒍᑎᒥᓂᒃ, ᑕᒉᓐᓇᖅ ᐱᒋᐊᑦᓴᐅᑎᒋᓗᑎᒃ, ᐊᖏᖕᖏᑑᒋᐊᒥᓪᓗ ᐃᓚᕋᓱᑦᓱᑎᒃ, ᑌᒫᒃ ᐱᐅᓯᖃᖃᑦᑕᓯᒪᔪᑦ ᐃᓄᒻᒪᕇᑦ.
These are the instructions given to the elders about listening. They had to listen to instructions carefully, and do them right away and were afraid to refuse to do them. That's how it was for elders.
Obeying
ᑌᑦᓱᒪᓂ ᐃᓄᐃᑦ ᕿᑐᕐᖓᖏᑦ, ᐅᕕᒐᕐᑐᖏᓪᓗ ᐅᖃᐅᑎᔭᐅᑐᐊᕋᒥᒃ, ᑎᓕᔭᐅᑐᐊᕋᒥᓪᓗ ᐊᖏᑦᓯᐊᑐᐃᓐᓇᐸᕐᑐᕕᓃᑦ ᓈᓚᑦᓯᐊᓱᑎᒃ.



Back then, when Inuit children, and adolescents were told, and asked to do something, they just obeyed without making any fuss.
ᕿᑐᕐᖓᐅᔪᑦ ᑐᑭᓯᒪᑎᑕᐅᑦᓯᐊᐸᓚᐅᕐᑐᑦ ᓯᕘᕋᒋᔭᑦᓴᖃᕐᑐᒥᒃ ᐊᑖᑕᐅᑉ, ᐊᓈᓇᐅᓪᓗ ᐊᓯᐊᓂᒃ. ᒎᑎᐅᑉ ᐅᖃᐅᓯᖏᓐᓃᑐᓂᒃ, ᐃᒫᒃ ᐅᖃᕐᑐᓂᒃ, "ᐊᑖᑕᓐᓂᒃ, ᐊᓈᓇᓐᓂᓗ ᓈᓚᑦᑐᓴᐅᕗᑎᑦ ᐊᑯᓃᕐᑐᒥᒃ ᐃᓅᓂᐊᖁᓪᓗᑎᑦ ᓄᓇᒥ."



Children were taught that there is more to worry about than just their father and mother. The bible says, "you should obey your father and mother, so that you may live long life on earth."
ᐱᐊᕋᓐᓂᒃ (ᑲᒃᑲᓛᓂᒃ) ᕿᐱᓗᑦᑐᓂᒃ ᐊᐅᓚᔨᖕᖏᑐᖓ, ᓴᐱᕆᒐᒥᐅᒃ ᑭᓯᐊᓂ ᕿᐱᓗᒐᓛᕐᐸᑐᕕᓃᑦ. ᕿᐱᓗᑦᑐᐊᓗᖃᕐᐸᓂᕋᓂᓗ.



I do not remember children disobeying, only when they knew they would fail, so they would fuss. No one ever complained.
ᕿᑲᑐᐃᓐᓇᑎᑕᐅᓕᓂᐅᖕᖏᑐᑦ ᐊᖓᔪᕐᖄᒥᓂᒃ ᐊᖕᖔᓯᐊᑐᐃᓐᓇᓲᑦ, ᐱᒋᐅᕋᔭᑦᔭᒐᑎᒃ ᕿᑲᑐᐃᓐᓇᑎᑕᐅᓕᓂᐅᒍᑎᒃ. ᐱᒋᐅᑐᐃᓐᓇᕋᑕᓲᑦ ᑎᓕᐅᕐᑕᐅᒋᐊᖃᑦᔭᕈᓐᓀᓱᑎᓪᓘᓃᑦ ᐱᔭᕆᐊᓕᖏᓐᓂᒃ.

Those who aren't allowed to sit around doing nothing, obey their parents. They would disobey them if they had not been taught to help. They start to do things on their own without being told.
ᓈᓚᑦᓯᐊᐸᓚᐅᕐᖁᑦ ᐃᓄᐃᑦ ᒥᓂᑦᓯᕙᑦᑐᕕᓂᐅᒐᓗᐊᕋᒥᒃ ᐃᓅᖃᑎᒥᓂᒃ ᐊᔪᕿᑦᑐᐃᔨᒧᑦ ᐅᖃᐅᑎᔭᐅᑐᐊᕋᒥᒃ ᐊᖏᑦᓯᐊᐸᑦᑐᕕᓃᑦ. ᒪᕐᕉᓂᓪᓗ ᐊᕐᓇᖃᕐᐸᑐᕕᓂᐅᑦᓱᑎᒃ, ᐅᖃᐅᑎᔭᐅᑦᓱᑎᒃ ᑌᒣᑦᑐᓴᐅᖕᖏᒋᐊᒥᑦ ᐊᖏᑦᓯᐊᑐᐃᓐᓇᐸᑦᑐᕕᓃᑦ.

Inuit used to disagree with other people but when they were advised by a priest they obeyed right away. They used to have two wives and when they were advised not to do something, they obeyed right away.
ᓵᒋᐊᕐᑎᑕᐅᓯᒪᓕᕋᒥᒃ ᐊᔪᕿᑦᑐᐃᔨᒧᑦ ᐱᖁᔭᒥᒃ ᓈᓚᑦᓯᐊᑐᕕᓃᑦ, ᐊᔪᒉᓪᓘᓱᑎᒃᑐᓴᕈᒪᓂᓪᓚᕆᒻᒥᒃ ᐱᑕᖃᕐᐸᓂᕐᒪᑕ.

When they were converted by the minister, they obeyed the law, even when they thought it was odd but they craved their advice.
ᑌᑦᓱᒪᓂ ᐃᓄᐃᑦ ᕿᑐᕐᖓᖏᑦ, ᐅᕕᒐᕐᑐᖏᓪᓗ ᐅᖃᐅᑎᔭᐅᑐᐊᕋᒥᒃ, ᑎᓕᔭᐅᑐᐊᕋᒥᓪᓗ ᐊᖏᑦᓯᐊᑐᐃᓐᓇᐸᕐᑐᕕᓃᑦ ᓈᓚᑦᓯᐊᓚᐅᕋᒥᒃ.



In the past, when Inuit children and adolescents were asked to help out, they would obey right away because they were taught obedience.
ᒥᑭᔪᐊᐱᐅᖏᓐᓇᕋᓗᐊᕋᒥᒃ ᑎᓕᔭᐅᖃᑦᑕᑐᕕᓃᑦ. ᑎᑭᑦᑐᓂᒃ ᓴᒻᒧᐊᑎᑕᐅᑦᓱᑎᒃ, ᓇᑦᓴᕈᓐᓇᑖᐱᖏᓐᓂᓗ ᓇᑦᓴᓯᑎᑕᐅᑦᓱᑎᒃ.



Even as little children they were asked to help out. For example, they were asked to help unload gear for people who just arrived.
ᑌᒪᖕᖓᓂᑦ ᐊᖓᔪᕐᕐᑳᒥᓂᒃ ᐱᓇᓱᑦᑎᓗᒋᑦ ᑕᑯᓐᓇᓕᓂᐅᑐᐊᕋᒥᒃ, ᐃᑲᔪᕐᑎᑕᐅᓕᓂᐅᑐᐊᕋᒥᓗ, ᑎᓕᐅᕐᑕᐅᓕᓂᐅᑐᐊᕋᒥᓗ. ᐃᓱᒣᓐᓇᕿᑎᑐᐃᓐᓇᔭᓇᒋᑦ ᐱᒋᐅᓲᒍᒻᒪᑕ ᐃᓕᓴᕐᑐᕆᑦᔭᒐᑎᒃ, ᐃᓕᓴᕋᒥᒃ ᑕᑯᓐᓇᓂᑐᐃᓐᓇᒥᑎᒍᑦ.



They were used to watching their parent work, or were constaly asked to help and were given chores. They weren't allowed to do what they wanted; this is how they became independent, not realizing they were being taught. They were learning by seeing.
ᕿᑐᕐᖓᖅ ᓇᓪᓕᒋᒧᑦ ᐱᓇᓱᐊᕆᐊᓕᖏᓐᓂᒃ ᐱᓇᓱᐊᕐᑎᑕᐅᓕᓂᐅᖕᖏᑐᖅ ᐱᒋᐅᓲᒍᖕᖏᒪᑦ, ᐱᒋᐅᖁᔭᐅᒧᑦ -ᒍᒪᖕᖏᖃᓗᐊᕐᒪᑕ ᑎᓕᔭᐅᑐᐃᓐᓇᖃᑦᑕᑐᕕᓃᑦ ᐱᓇᓱᐊᕐᑎᑐᐃᓐᓇᓱᒋᑦ.



A child who is spoiled and loved too much isn't accountable for their actions. They were asked to chores in order to become independent, even when they would refuse.
ᐱᒋᐅᑦᓯᐊᑐᖃᕋᒥ ᕿᑐᕐᙰᑦ ᓇᓪᓕᓇᕋᒥᒃ ᑎᓕᐅᕈᒥᓇᓲᒍᖕᖏᒥᔪᑦ ᑭᓯᐊᓂ ᐊᖏᓕᑐᐃᓐᓇᕋᑕᕐᑎᓗᒋᑦ ᑎᓕᐅᕐᑕᐅᓕᓂᐅᖕᖏᑐᑦ, ᐃᓱᒣᓐᓇᕿᑐᐃᓐᓇᕈᒪᓂᕐᒥᒃ ᐱᐅᓯᑖᕐᐸᓕᐊᑐᐃᓐᓇᓲᑦ.



When a child is independent, it is hard to ask them to do something when you're too proud. But the ones who grew up without chores have an urge for freedom.
ᐱᐊᕋᐅᕐᓱᑎᒃ ᐃᓂᕐᑎᑕᐅᑦᓯᐊᐸᓚᐅᕐᑐᑦ ᐊᖓᔪᕐᖄᒥᓄᑦ, ᐃᓄᓐᓂᓗ ᑲᒪᑦᓯᐊᖁᔭᐅᕙᓚᐅᕐᓱᑎᒃ ᓯᕗᓂᕐᓴᖃᑦᓯᐊᖁᔭᐅᑦᓱᑎᒃ. ᐊᔪᕿᕐᑐᐃᔨᖃᖕᖏᑲᓗᐊᕐᓱᑎᒃ ᐅᑉᐱᓂᕐᒥᒃ ᖃᐅᔨᒪᔪᕕᓃᑦ, ᐃᓅᑦᓯᐊᖁᔭᐅᓂᕐᒥᒃ ᓈᓚᑦᓯᐊᓱᑎᒃ.



Children were reprimanded by their parents, and were encouraged to care for other people, so they would have a better future. They may not have had the guidance of a minister but they had faith, to fulfill the need for a good life.
Credits
We would like to thank the following people for sharing knowledge about Inuit traditional ways.
Johnny Manumi Inukpuk
Adamie Niviaxie
Taamusi Qumaq
Eva Ilimasaut
Eyetsiak Simigak
Thomassie Kudluk
Mosesie POV
Mitiarjuk Nappaluk
Raiki Najummi Augiak
Annie Alaku
Pasha Simigak
Qipitaq Arnaituk
Issak Uumajualuk
Naalak Nappaaluk
Annie Grey
Velesie Annahatak
Kusugaliniq Ilimasaut
Tivi Eetok
We would like to thank the following organizations for giving us photos and for categorizing them: Avataq Cultural Institute and Kativik Ilisarniliriniq
We would like to thank the elders who were asked to record by Avataq Cultural Institute.
We would like to thank the following people who compiled and organized information:
Betsy Annahatak
Mary Elijassiapik