Learning Outcome
Students should understand the importance of having good relationships with relatives and a strong rapport with others. Inuit have very strong family values which has brought them resilience and strength up to today.
---
Inuit Code of Conduct for Society
This lesson is part of an Inuit Code of Conduct for Society, along with these other lessons:
Getting along with others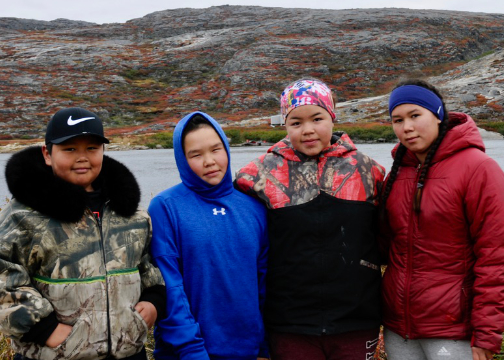 How to teach this lesson
Students can read the elders stories or the teacher can read and explain them.
After reading these stories, student can start discussing the difference of politeness between the past and now.
Tell them the story of how Inuit felt very strongly about family relationships. You could use your own knowledge and experiences to help them understand.
Tell them to respect others and follow what the elders say. Elders have shared their experiences and they have lived a very long time, and what they say is true.
Once students have finished reading or listening to the stories, have them write their own thoughts and what they understood about how Inuit handled getting along with others, maintained family relationships, and how they cared for others.
They could also visit elders, or invite an elder to talk in class about how Inuit got along with one another.
Traditional Inuit Words of Advice
ᑖᒃᑯᐊ ᐃᓄᒻᒪᕇᑦ ᐅᖃᐅᑎᔭᐅᒍᑎᒋᖃᑦᑕᓯᒪᔭᖏᑦ ᐃᓅᖃᑎᒌᑦᓯᐊᓗᑎᒃ, ᐃᓚᒌᑦᓯᐊᖁᔭᐅᖃᑦᑕᓯᒪᒻᒪᑕ. ᑌᒣᑦᑑᓱᑎᒃ, ᐃᓚᓕᐅᕐᓂᖓ, ᐃᓅᖃᑎᒌᓐᓂᖓᓗ ᓲᖑᔫᓚᐅᕐᑐᖅ. ᑌᒫᒃ ᑭᓯᐊᓂ ᐱᑦᓯᐊᖃᑦᑕᐅᑎᑦᓱᑎᒃ ᐃᓅᖃᑎᒌᑦᓯᐊᕈᓐᓇᓚᐅᕋᒥᒃ.
Elders were taught how to get along as a family. By following those rules, their relationships and their society were strong. That was the only way that they could get along.
Good Family Relationships
ᑖᒃᑯᐊ ᐃᓄᐃᑦ ᑌᑦᓱᒪᓂ ᐱᐅᓯᕆᓯᒪᔭᖏᑦ ᐃᓅᖃᑎᒌᑦᓯᐊᓂᕐᒧᑦ, ᐃᓚᒌᓐᓂᒧᑦ, ᐃᓅᖃᑎᒥᓂᓪᓗ ᑲᒪᑦᓯᐊᓂᕐᒧᑦ, ᑌᒣᑦᓱᑎᒃ ᐃᓄᐃᑦ ᐃᓚᓕᐅᕐᑐᐊᓘᕙᓚᐅᕐᑐᑦ.

This is how they were back then; getting along with each other and having good family relationships. That is how they built families.
"ᑌᑦᓱᒪᓂ ᐃᓅᖃᑎᒌᑦᓯᐊᕌᓗᑦᓴᐸᓚᐅᕋᑦᑕ, ᓚᐅᕐᒪᑕ ᐊᖓᔪᕐᖄᕗᑦ."



"Way back then , we used to get along with other people, just as our parents did."
"ᓯᓚᕐᔪᐊᖅ ᒫᓐᓇ ᐃᓄᖃᕐᒪᑦ ᐃᓘᓐᓇᓕᒫᑦᓯᐊᕌᓗᖏᓐᓂᒃ, ᐃᓘᓐᓇᑎᒃ ᐃᓚᓕᐅᕐᑐᐊᓘᕙᓚᐅᕐᒪᑕ", ᐊᐅᓚᔨᑦᓯᐊᕋᒃᑭᑦ ᐃᓚᓕᐅᖃᑕᐅᑦᓯᐊᕆᐊᖃᕐᖁᒍᑦ.



"The whole world is filled with a lot of people now. They have all made their own families." I remember it all, and we also have to create a family.
"ᐊᕐᓇᕉᖅ ᐊᕙᒻᒧᕋᕈᓂ ᐃᓚᒌᓐᓂᒃ ᓱᒃᑯᐃᒍᓐᓇᒪᑦ. ᓴᑭᑎᑦ, ᐊᓈᓇᒃᑯᑎᓪᓗ ᐊᑕᐅᓯᐅᑎᓪᓗᒋᑦ ᐃᓚᒋᒐᓱᐊᕈᕕᒃᑭᑦ ᐊᕙᒻᒧᕋᕐᕕᒋᑦᓴᕈᓐᓀᓗᒋᑦ, "ᖃᓂᕉᖅ", ᐅᖃᐅᓯᖅ ᐊᑕᐅᓯᐅᒐᓗᐊᖅ ᓱᒃᑯᐃᒍᓐᓇᒪᑦ!"



"If a woman keeps secrets, she can break up families. Treat your in-laws and your parents the same way. Do not keep secrets in order to avoid creating disputes between each other. "The mouth" is a powerful tool and a single word has the power to destroy!"
ᐆᒥᓱᐊᓗᑦᓴᑐᐃᓐᓇᕈᓐᓀᓗᑕ ᐅᖃᐅᑦᔩᕙᒋᐊᖃᕐᖁᒍᑦ ᐃᓚᑦᑎᓂᒃ ᐊᑦᔨᒌᑦᑎᓗᒋᑦ. "ᐱᐅᖕᖏᑐᐊᓘᒐᓗᐊᕐᐸᒎᖅ" ᓴᐱᕐᕆᐊᑌᓕᓪᓗᒍ ᓵᓚᒋᒐᓱᐊᑐᐃᓐᓇᓗᒍ ᐅᖃᐅᑎᑦᓯᐊᐸᓪᓗᒍ.



We shouldn't get angry with our family. We should be able to communication with them openly and fairly. Even if things are "bad", don't give up on them, keep talking to them.
ᐃᓚᒌᑦᓯᐊᓚᐅᕐᖁᑦ ᐃᓄᐃᑦ ᓂᓪᓕᐅᔨᖃᑦᑕᐅᑎᒃᓯᐊᓱᑎᒃ, ᐃᓚᓐᓈᕇᑦᓯᐊᓱᑎᒃ, ᐃᓚᒌᑦᓯᐊᒪᕆᐊᓗᑦᓴᓕᕐᓱᑎᒃ ᐃᓅᕙᓚᐅᕐᑐᑦ.

Inuit are close-knit – always talking to each other, being friendly, always close to each other. That is how they have always lived.
Caring for Others
ᐃᓄᐃᑦ ᓯᕗᓪᓕᕗᑦ ᑲᒪᑦᓯᐊᐸᓚᐅᕐᑐᑦ ᐃᓚᒥᓂᒃ, ᐃᓅᖃᑎᒥᓂᓪᓗ. ᑲᒪᒋᐅᑎᑦᓯᐊᓱᑎᒃ ᐃᓄᐃᑦ ᐃᓅᕙᓚᐅᕐᑐᑦ.



Our ancestors used to take care of their families, and other people too. Inuit used to look out for one another.
ᕿᑐᕐᖓᖅ ᐃᒻᒥᓂᕿᒋᐅᕐᓂᐅᒐᓗᐊᕈᓂ ᐊᖓᔪᕐᖄᒥᓂᒃ ᑐᓄᑦᓯᑐᐃᓐᓇᕆᐊᖃᑦᔭᖏᑦᑐᖅ, ᐱᕐᖃᔭᕐᑎᓇᒍ ᐱᕈᐃᔭᐅᓚᐅᔪᒐᒥ ᑲᒪᑦᓯᐊᕆᐊᓕᒃ, ᕿᓄᕕᐅᖕᖏᑲᓗᐊᕈᓂ ᐊᖓᔪᕐᖄᒥᓄᑦ.

Young adults must never turn their backs on their parents. I was raised by an elder, and even when they don't ask for anything, you still have to look out for them.
ᐊᑖᑕᒻᒪ ᐅᖃᐅᓯᕆᕙᓚᐅᕐᑕᖓ ᐃᓅᖃᑎᒌᑦᓯᐊᖁᔨᑐᐃᓐᓇᐸᓚᐅᔪᒻᒪᑦ, ᑭᖑᓂᖓᓂ ᑲᑉᐱᐊᓱᑦᔭᖏᑦᑐᖓ. ᐃᓱᒪᒋᒐᓚᓚᐅᕐᓯᒪᖕᖏᑕᕋ ᓇᒧᑐᐃᓐᓇᖅ ᐊᐅᓪᓛᓕᑐᐊᕐᒪᓘᓐᓃᑦ ᒪᓕᑲᑦᑕᐸᓚᐅᕋᒃᑯ. ᐃᓱᒫᓗᒋᖕᖏᓚᕿᔭᕋ ᑲᒪᒋᑦᓯᐊᓚᐅᔪᒐᒃᑯ, ᑭᐅᕌᓗᒋᐊᒥᓪᓗ ᐊᐅᓚᔨᑦᔭᓇᒍ.



My father used to tell me to get along with other people, so that when I got older I wouldn't have to worry. I never really thought much about this because I used to follow him everywhere he went camping. I do not worry about this because I looked after him well, and I don't remember ever being disrespectful to him.
ᐃᓅᖃᑎᑦᑎᓂᒃ ᐃᓕᐊᕐᕈᐊᐱᐅᓕᕋᓗᐊᕐᒪᑕ ᑲᒪᑦᓯᐊᓕᐅᒥᑦᔭᖏᑦᑐᒍᑦ. ᐃᓅᖃᑎᑦᑎᓄᑦ ᖃᓂᒪᔨᐊᓕᐊᐱᓐᓄᑦ ᑕᑯᔭᕐᑐᖁᔭᐅᕐᓱᑕ, ᖃᓄᐃᔨᐊᖃᖕᖏᓂᕐᓴᓄᑦ ᐁᓲᖑᔪᒍᑦ. ᖃᓂᒪᔨᐊᓕᐊᐲᑦ ᖄᖏᕐᓱᒋᑦ. ᓯᓚᑐᒍᑎᒋᒋᐊᖃᓕᕐᑕᕗᑦ, ᑌᒣᓂᐊᕐᒥᒐᑦᑕ ᐃᓅᓯᑦᑕ ᐃᓱᐊ ᖃᐅᔨᒪᑦᔭᖏᓐᓇᑎᒍ!

We don't check on people who have lost their parents. We used to be told to go see those who weren't well, but now we only go see the ones who aren't sick. We simply overlook those who aren't well. We have to be aware of this now because no one ever really knows when life will end!