Carving before the 1940's
Inuit have been practicing the traditional art of carving for thousands of years. In the earlier years, they were mostly carving utensils, tools for hunting and fishing (harpoon heads, arrowheads, knives) as well as toys and containers. These items could be carved out of bone, antler, ivory and drifting wood depending on the region. Most carvings were very small pieces, due to the nomadic way of life.
Although the Inuit of Ungava also made carvings, they seem to have produced less than the Inuit from the Hudson Coast, possibly due to a lack of stones.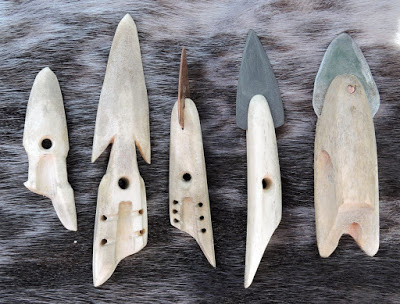 The qulliq, was mostly carved out of steatite or soapstone. The qulliq was a very important item used for cooking, lighting and heating the tent or the igloo. Men used to bring smaller qulliqs on their hunting travels as they were lighter than regular qulliqs used in the home.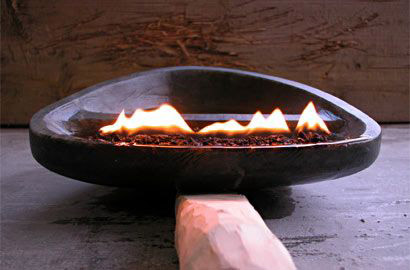 Petroglyphs (carvings in rock) can be found near Kangiqsujuaq.
A very small mask was made by Inuit before 400 B.C. It was found near Salluit, on an island at the archeological Tyara site.
"What we show in our carving is the life we have lived in the past right up to today. We show the truth."

Paulosie Kasadluak, Inukjuak
Carving in the 1940's
Before the 1940's, the Inuit from Nunavik traded some of their carvings with whalers, explorers and other arctic visitors.
In 1948, James Houston a young artist from Ontario, went to Inukjuak to draw Arctic landscapes. While he was there, he traded one of his drawings for a carving made by Nayoumealuk. He then brought back to Montreal a dozen carvings from Nunavik. These carvings sold very quickly and he encouraged Inuit to create art objects to help the economic situation at the time.
---
The stones used to carve in Nunavik are mostly serpentine found along the bank of the Inukjuak River and steatite, which is found in many different communities (Puvirnituq, Akulivik, Ivujivik and Salluit). Inuit used to go to the quarries during the winter as it was easier to bring back the stones on a qamutik. They would use files and pocket knives to mine and to work the stone. Many artists would use seal blubber to give the stone a dark finish.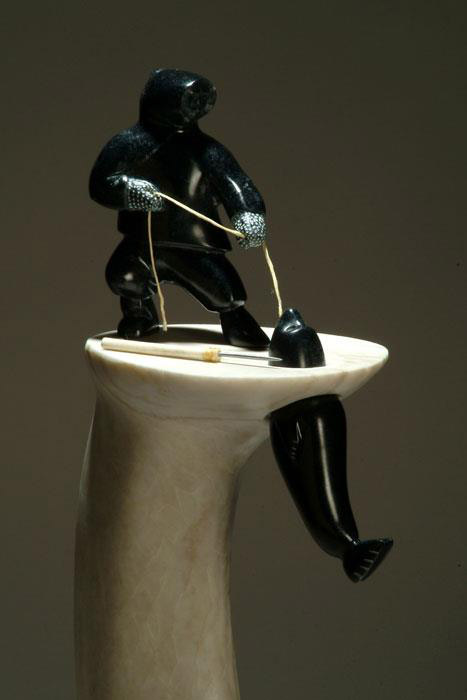 Carving in the 21st Century
In the 21st century, Inuit are still carving. Sculptors use mechanical tools and electric grinders but the steps to creating a carving are essentially the same. They can find stone at the quarry and extract it with an axe. Then they saw or chop off useless parts of the sculpture. Then, using knives and gauges, they make more details in the stone. The next step is filing and polishing the sculpture. The sculptor will then shine the final product, possibly with clear shoe polish.