We're pleased to share with you the graphic recording of the introductory session for the DEI Learning Series which was offered last August as part of the annual Teacher Orientation.
During this session, we started the conversation around the process of self-reflection rooted in three competencies: diversity, equity and inclusion. We discussed how this process and these competencies would add strength to Ilinniatitsiguti, an Inuit-centred development tool. Increasingly, teachers will be asked to use Ilinniatitsiguti to design culturally relevant curriculum for Nunavimmuit learners.
Reflection
On the graphic recording, curriculum contains three components: explicit, implicit and omitted. Reflecting on your practice as a teacher, try to identify a component that you bring implicitly to the classroom. For example, would systematically asking students to write their answers implicitly devalue other forms of knowledge transmission?
Reflecting on the process and commitment to come together with an open mind and heart, on a daily basis who do you connect with personally and professionally and what sources of knowledge do you rely on? How do these relationships and resources influence your world view?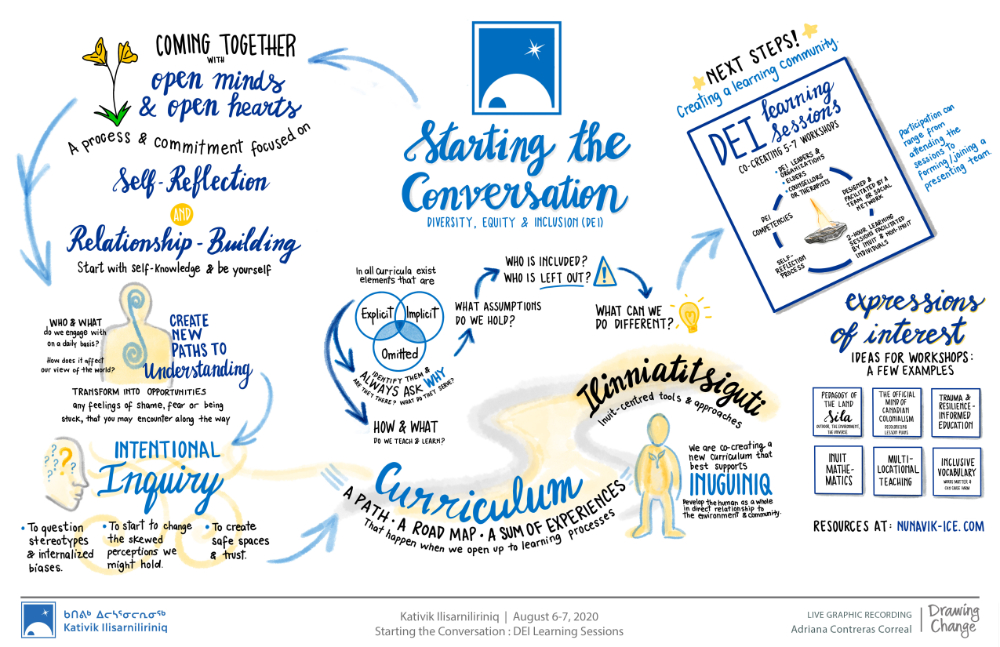 The second learning session is under development. Scheduled for early November and facilitated by Melissa Oskineegish and Paul Berger, we will look more closely at the process of self-reflection in an Inuit context. Our workshop facilitators have teaching experience in both a First Nations and an Inuit community. Their teaching experience sparked questions that eventually led them to design collaborative research projects linked to Inuit Education, Culturally Responsive Teaching, and Critical Pedagogy.
For more information, you can contact Haidee at KI Education Services. In the meantime, you can read two of their publications that may interest you.