Overview
In the old days, when Inuit used igloos on a daily basis, most men and women learned early how to cut and extract a snow blocks by observing the hunters. Today, since few hunters still build igloos, children are not exposed to this practice. This is why it is important to teach them how to identify types of snow and to extract blocks at school.
Igloo building unit
This lesson is part of an igloo building unit composed of the following 6 lessons.
Experimentation
---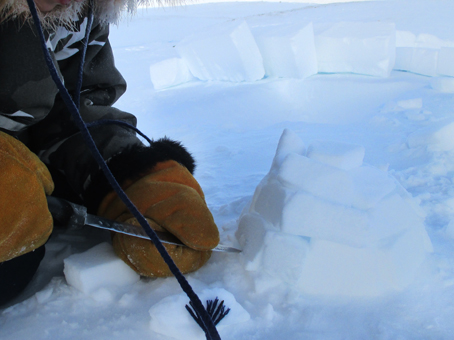 Learning Outcomes
This first lesson will allow teacher to assess students' experience, skills, knowledge and attitudes in igloo building. This activity's goal is to give students discovery time, without providing them too much information. This short lesson usually develop their motivation to learn more. Students will be on the land to experiment with snow and tools. They will be introduced to igloo building tools and types of snow. Trial and error in extracting blocks of snow will develop their sense of the materials they will be working with.
At the end of this lesson, students will
have been identified for their level of prior experience, knowledge and skills in igloo building;
have seen and experimented the challenges of opening-up snow and extracting blocks;
understand the importance of determination and will not give-up in their first attempt;
know the name of igloo building tools.
Flow
1. Land Excursion
Take students on the land and find a proper place to build an igloo. Provide the tools to students and name them.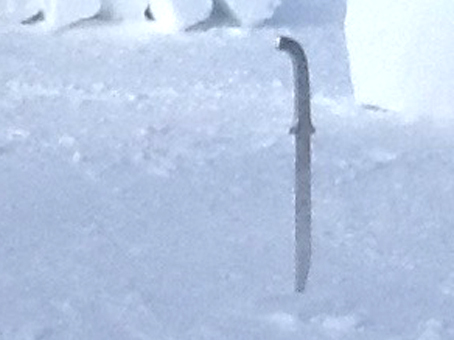 The snow knife is useful for adjusting the size and angles of snow blocks.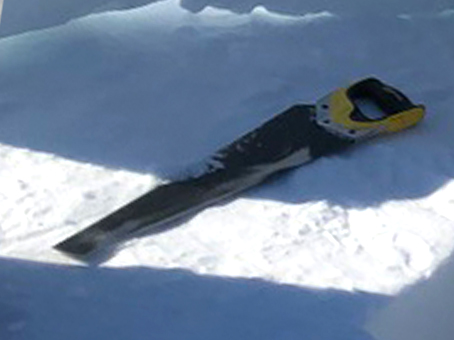 The killuutik is easy to use for cutting through hard sitilluqaq snow.
Let students experiment, without providing them with too many information. Observe and assess individual students' prior experience, knowledge and skills. This will allow you to adjust the level of your next lesson.