Overview
Building an igloo requires a lot of knowledge and information. In the old days, Inuit used to build igloos on a regular basis, and learned mostly by observation, but also by imitating and repeating the task. Today, since the use of other types of shelters, such as shacks, tents, etc. is more and more common, students don't have the opportunity to learn this way. This is why it is important to instruct them how to build igloos before going on the land for them to practice in the next lesson.
Igloo building unit
This lesson is part of an igloo building unit composed of the following 6 lessons.
Theory
---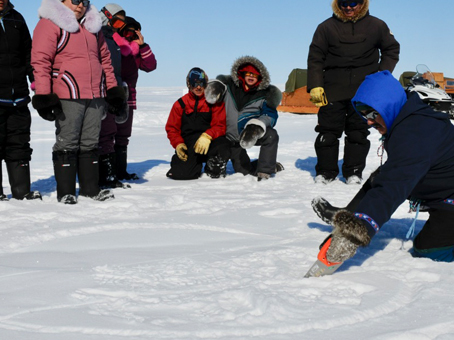 Learning Outcomes
In this lesson, students will acquire the necessary knowledge in order to start building an igloo. They have previously seen and experimented on the land, with snow. It is now time to look at the building techniques, tools, types of snow, diagrams, proper location, miniatures, and theory behind igloo. They will strengthen the knowledge that they developed by experimenting in the previous lesson and see the step-by-step procedure to build their igloo.
At the end of this lesson, students will
know how to find a proper location and proper snow for igloo building;
know how to prepare for igloo building (tracing the footprint, cutting the first lines);
know how to open-up the snow and extract blocks using the igloo building tools (panak, unak, killuutik);
know how to assemble blocks with construction techniques (kikiattoq, tukirniq);
know how to build the igloo (foundation to last blocks, including cutting a door and a ventilation hole);
have developed their snow vocabulary and igloo vocabulary.
Flow
1. Presentation
Use the PowerPoint presentation as a resource to go over the theory of igloo building.
This video (available in Inuktitut only) is an example of an igloo building theoretical lesson that covers the most important concepts.
Concepts
All the important concepts to address during this lesson are explained in the PowerPoint presentation. They include: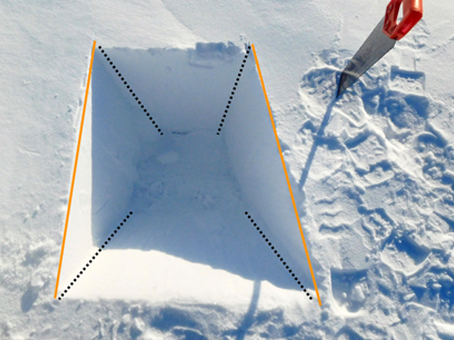 Snow blocks geometry
In order to extract snow blocks easily, they have to be cut wider on the surface and towards you.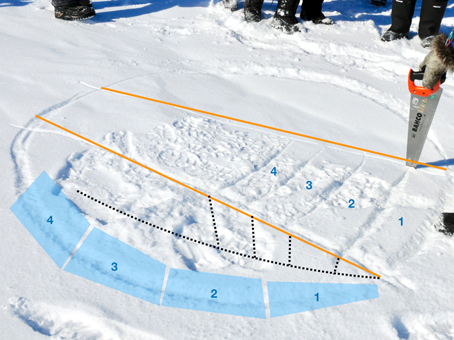 Igloo foundation
Cutting the right blocks within the footprint of the igloo will ensure an appropriate foundation.
Additional Resources
Assembling the blocks to build an igloo
Materials
Board and projector
Powerpoint presentation
Student document
Example of a lesson by Charlie (video)