Overview
The igloo is a central point in Inuit culture where stories and knowledge is shared. Since the ways of living has changed, families don't live in igloos anymore. In this case, the classroom will be a place to share this knowledge and feedback on students' experience.
Inuit hunters are aware of the weather. They used to know when and where blizzard occurred and which direction it blew, knowing exactly where to build their igloo and which type of snow to use. Today, students have to learn these ways. As ancient Inuit ingenuity brought us here, it is important to keep this knowledge alive and transmitted by elders to the future generations.
Igloo building unit
This lesson is part of an igloo building unit composed of the following 6 lessons.
Legacy
---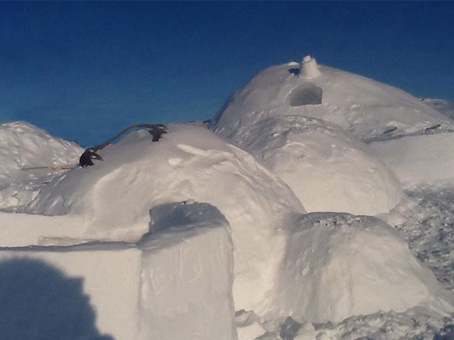 Learning Outcomes
In this lesson, students will share and reflect on their experience of igloo building. They will receive feedback that will help them in their future igloo buildings. This class is also meant to provide inspiration for students to keep building igloos and to broaden their knowledge of the traditional shelter.
At the end of this lessons, students will:
Have had a meaningful connection to their culture through the encounter of elders who shared their experience with igloo building and living.
Flow
1. Presentation
Invite elders to discuss their experience living in an igloo.

Let the knowledge keepers talk about the importance of the igloo, coming back on the themes of the introduction.

Watch the video where people who lived in igloo are interviewed.
Insist on the importance of knowing how to build an igloo even in modern days, as it can save your life on the land.
Extensions
This lesson is a good time to introduce the family size igloo and teach about its different components and related vocabulary.
Materials
Computer
Projector
Speakers