Overview
Igloo is one of the most important shelters that Inuit invented and perfected over thousands of years. Today, with new technologies and shelters like canvas tents, cabins, Eskimo instant tent, tarp, etc. very few modern hunters use igloos for shelter. Elders say that if a hunters can build an igloo, he becomes independent, competent and confident. This way, their family members don't need to worry, even if they don't arrive on time or get stock due to sudden bad weather changes.
Igloo building unit
This lesson is part of an igloo building unit composed of the following 6 lessons.
Introduction
---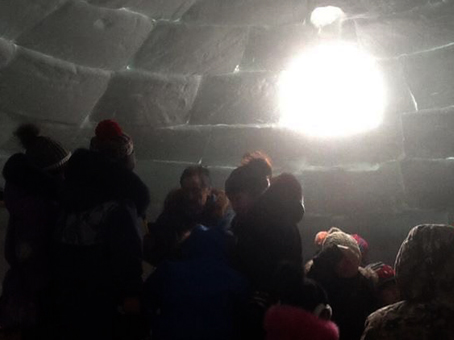 Learning Outcomes
It is not possible, in a single lesson, for students to understand the scope of the importance of igloo building for Inuit. In this first lesson, teachers should plant the seeds, but it will be important for them to insist and develop this idea all throughout the unit. This can be done by doing an information capsule at the beginning of each class, by inviting guest speakers, by presenting films, etc.
At the end of this lesson, students will
have engaged in a reflection around igloo that will lead them to understanding the importance of this shelter in their culture;
be motivated to learn how to build an igloo.
Flow
1. Exposé
Choose materials from the resources and plan a 15 minutes exposé on igloo building. Support your exposé with visuals (pictures, drawings, videos, etc).
Materials
Computer
Projector
Speakers