Welcome to your Work Oriented Training Pathway orientation. Here, you will find all the necessary information to get started with both Pre Work Training Program (PWTP) and Training for a Semi Skilled Trade (TSST) courses.
Please take some time to familiarize yourself with the content of this page prior to your live session.
Table of Contents
---
1. Meet Your Education Consultants
Antoine Cloutier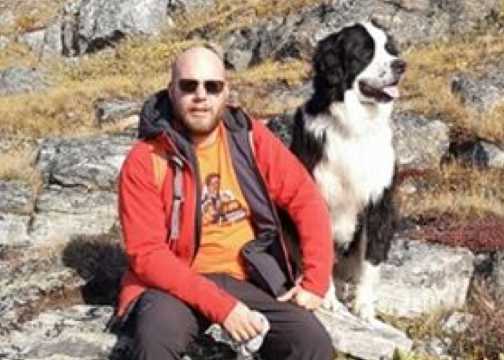 Education Consultant, Work-Oriented Training Pathway, Salluit
Email: antoinec@kativik.qc.ca
Phone at Ikusik School: 819 255-9915
Hi, my name is Antoine and I'm from the south shore of Montreal. After completing my Bachelor of Education for secondary French in 2017 at Université de Montréal, I immediately started teaching in Salluit. I started teaching grade 7 French as a generalist and last year, in 2019, I changed paths and started teaching the WOTP program. For the next school year, I intend to develop tools that can be used on the field as well as documents and material to fulfill the needs of teachers.
Cory V. Burlingham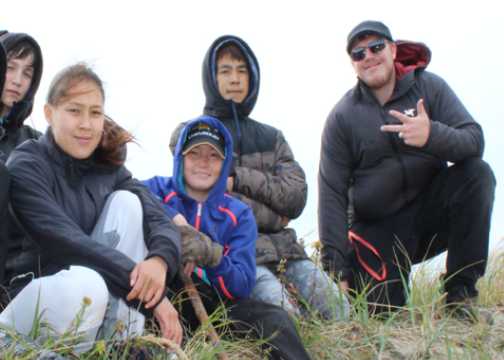 Education Consultant, Work-Orientated Training Pathway, Kuujjuarapik
Email: coryb@kativik.qc.ca
Phone at Asimauttaq School: 819 929-3409
Hello, I am originally from Sarnia, Ontario. I completed my Bachelors of Education at Western University, and I studied Art and Art History at the University of Toronto. I began teaching in Nunavik in 2015. I was originally hired as a specialist teacher for the visual arts K-2.3. After two years I shifted my position to the specialist teacher in the Nurture Group, working with students who have developmental disorders. Last year, I rolled out my school's first WOTP program. This year I aim to focus the WOTP program into a more cohesive and coordinated movement throughout Nunavik.
2. About the Program
The Work Oriented Training Pathway (WOTP) offers students two alternative pathways from the regular program. Both the Prework Training (PWT) and Semi-Skilled Trade (SST) programs lead to Quebec Ministry certification, often bridging them to work-related post secondary education, rather than being college-bound.
The PreWork Training Program (PWT) is a 3-5 year program of 2700 hours where various training for work placements takes place in project-based learning environments.
The Training for a Semi Skilled Trade (TSST) is a 1-year program of 900 hours where students develop specific competencies associated with a semi skilled trade. A work placement is required and the goal is to provide them with qualifications in a specific field of work.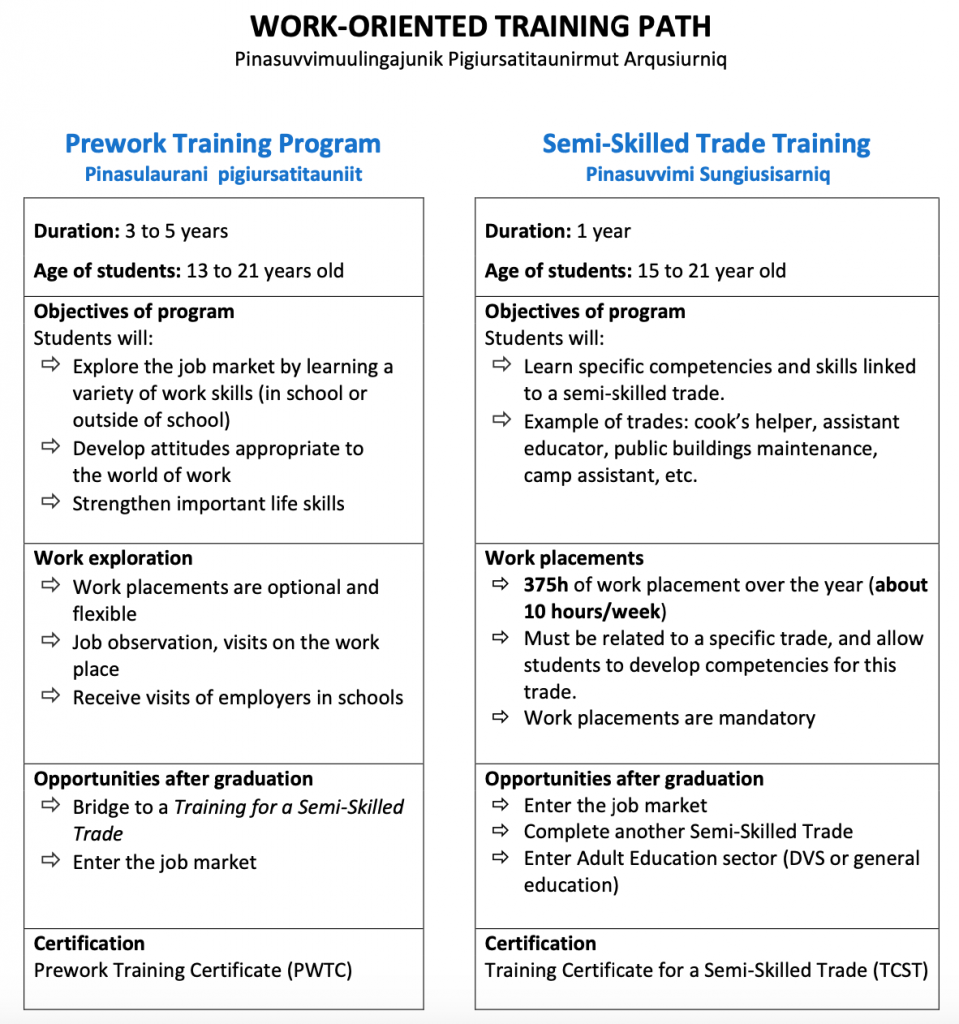 For more information, you can consult the official teacher's guide for the SST and PWT programs.
3. The Students
Student Strengths
Students in WOTP have a great number of strengths and abilities that are not normally expressed in the regular classroom. They tend to prefer hands-on learning and demonstrate their knowledge and skills when interacting with physical materials and in community-based projects. They have strong foundations in their cultural practices on the land and will incorporate this experience when creating solutions to problems. Many of them are the oldest siblings in their family playing a parental role in their household and thus have a strong family values.
Some students are unsure of their strengths and passions and may hide their strengths to avoid attention, but a mutual respect between the teacher and student will create space to uncover and nurture those skills and gifts. All of them are strong-willed and determined to succeed, all of them have the potential to learn, and with your guidance and support they will.
Please consider the Values of a Growth Mindset classroom
Student Needs
Just as your students have strengths they also have their areas of need. These should be documented in their Individual Education Plans (IEP). If they are not, you will need to start their file with a team at your school. Students in WOTP are likely to have a combination of exceptional needs that impeded their success in the regular sector. Some of these are the following:
Learning Difficulties
The student has a medical condition that affects their ability to learn. These students may be weak in certain subjects but strong in others. They may have motor-skill or speech impairments. These kinds of exceptionalities can only be diagnosed by a healthcare professional. Without testing, accommodations can still be made for these students through observation and consultation with your Special Education teacher.
Behavioural Disorder
The student exhibits a specific behavioural pattern that interferes with the regular routine of learning. Strategies and details should be found and updated regularly in the student's IEP.
At-Risk
Students who are deemed at-risk have a high potential for dropping out of school. These students could be dealing with the effects of traumas such as; self-harming behaviour, criminal activity, being a victim of abuse, violence, an unstable home life or a combination of traumas that affect their ability to learn.
Overall, some students in WOTP are some of the most vulnerable students in the school and should be taught and guided with patience and compassion.
Students who should NOT be enrolled in WOTP?
Please note that the parental authority overrides any and all decisions about the students educational program unless they are 18 years or older. A student can be entered or removed from the program at their parents/guardians request.
Physical handicaps are not grounds for consideration in WOTP unless they are also affected by one or more of the exceptionalities listed above.
Students with poor attendance should not be placed in WOTP solely on those grounds, one or more of the above exceptionalities must be present.
4. The Approach: Project Based Learning & 'Workskills'
Project-Based Learning
What are Work Skills?
Work Skills is a general term for the competencies a person needs to succeed in any workplace, such as basic literacy and numeracy, emotional intelligence, critical thinking and problem solving, digital literacy, and positive attitudes and outlook.
Please find the Ministry of Education documents on Work-Oriented Skills.
It is important for WOTP teachers to familiarize themselves with their community and the overall vision of Nunavik region. Getting in touch with the Adult Education and Vocational Training department is also a way to further understand the opportunities for your students to pursue their work interests.
5. The IEP, Creation and Implementation for WOTP
Individualized Education Plan (IEP) is mandatory for admission to WOTP. It is a living document and should be updated as needed throughout the school year, with a complete review at the start of each school year. You should consult your students IEP to identify your student needs and the strategies that are in place for their success.
You may want to consult the documents from the Ministry of Education and from KI for more details on the creation and implementation of IEPs.
6. Forms, Documents, Ordering
6.1 Permission forms
Completing permission forms will be top priority in your first two weeks of school. WOTP relies heavily on activities outside of the school to improve student engagement. You are legally required to have these completed before you can leave the school grounds or you will be personally liable for any incidents.
We highly recommend that you assemble all of the forms listed below for your students in advance and clearly mark where signatures are required.
General excursion form (see your principal)
To receive special educational services and assessments (DB Server available in your school)
Work-placement training permission form (Appendix G in the teacher guide)
Photo permission form (DB Server available in your school)
Health Form (DB Server available in your school)
If you are teaching TSST, completing the SIN application should be one of the first forms that you will fill with your students as it will be required for their work placement.
Keep in mind that the students are NOT to be paid during school time.
6.2 Ordering Materials through KI
You will be responsible for ordering your own materials. Please follow the instructions linked below. If you have any issues connecting to your account you may contact Jahlal Fattouh. (jalal.fattouh@kativik.qc.ca)
Once you receive your order form, you must send it to your principal who will sign and code it. The principal will then forward the order to the purchasing department. A teacher cannot approve their own orders.
You can check the status of all of your purchase orders by logging into your account. Code R is a request, P means your order is with the purchasing department.
For more information, read this guide >
6.3 Applying for Funding
The school budget is limited and is based on the number of students in your class, it will not likely cover your needs. Thankfully, there are many opportunities for funding your projects all around Nunavik, some funds come and go and can change each year. Here are the forms for the main funding sources used within KI.
The applications for this program must be submitted the year prior. Some exceptions may be made for New Paths.
7. Dash
Dash is the KI reporting tool that is mandatory for tracking attendance and writing student report cards.
WOTP does not have mandatory numerical or letter grading system as of yet. The formal grading for WOTP is under development this 2020-21 school year, and considering the evaluation tools used by WOTP teachers. Your students' report cards should contain teacher feedback on student progress in each subject that he/she attends, their total number of hours attended, and comments about their overall success based on the goals set with the student. Successful completion of WOTP is realized when the student has achieved their target number of hours. Failure to meet the required hours by the end of the third term means the student will have to continue the program the following year until the target is met.
Attendance Tip:
At the moment, Dash cannot express attendance as a measurement of time, you will have to use another method to keep track of the number of hours completed by each student.
Creating a year long excel document is a simple way to keep track of hours and specifying the type of hours students have achieved. To create this you will require your school calendar and your weekly schedule. Please see the excel document below for some examples of tracking.
See the sample Excel document >
8. Media Release