50 hours per year – 2 periods per week
This class objective is to make students aware of themselves and of their environment. The program promotes student's development as a young adult and helps them know themselves better. By doing so, the students will acquire the tools and abilities they will need to be an active member in their community life, they will learn to maximize their potential and they will be aware of the resources available in their environment.
In this class, students should:
discover their values, their interests and what motivates them (career quizzes, personality test, etc.),
set themselves goals and follow the steps to achieve them,
participate in different activity in your community (Family house, sewing center, etc.)
have an introduction to entrepreneurship (ex. CCD).
More explanations and examples about the program content are available below.
* Remember that you can combine different teachings and subjects. For example, taking various career and personality quizzes can target both Autonomy and Social Participation and ESL learning targets.
You can contact your education consultant if you have more question.
You may also consider teaching the Personal and Social Development (PSD) program offered by KI on the DB server.
Ministry's competencies
Competency 1 : Demonstrates autonomy in everyday situations
Identifies the goal to be achieved in a situation
Takes action
Reflects on his/her process
Competency 2 : Takes an informed position on everyday issues
Forms an initial opinion
Compares his/her position with those of others
Asserts his/her position
Reflects on his/her process
Competency 3 : Participates in community life
Develops a plan for social participation in his/her community
Implements the plan
Evaluates the consequences of his/her actions
Learning targets
At the end of the program, the students will
be able to analyze their personal needs, and then plan and take action to meet them in an autonomous and responsible manner,
be able to take a stand on issues related to everyday life situations and to comment on the consequences of their choices for themselves and for others,
have participated in one or more community projects. They learned to cooperate with others and to assume responsibility as active members of a community.
Evaluation criteria
Competency 1 : The student is able to demonstrates autonomy in everyday situations by
coming up with appropriate solutions and strategies,
showing continued motivation,
providing feedback on his/her degree of autonomy.
Competency 2 : The student takes an informed position on everyday issues by
understanding the significant elements of a situation,
expressing his/her position in the situation,
provide appropriate justification of his/her position,
give feedback on his/her approach.
Competency 3 : The student participates in community life by
providing accurate planning towards completion of the plan,
showing effectiveness in implementing the plan,
identifying the consequences of his/her actions
Program content
The autonomy and social participation class is based on six themes : health, society, consumption, financial independence, housing and transportation. These themes may be approached from different angles, thus offering students the opportunity to become familiar with the main challenges they will be facing in their personal and professional life. Also, in order to ensure that learning is not compartmentalized, it is important to help students understand the relationship that exist among these themes.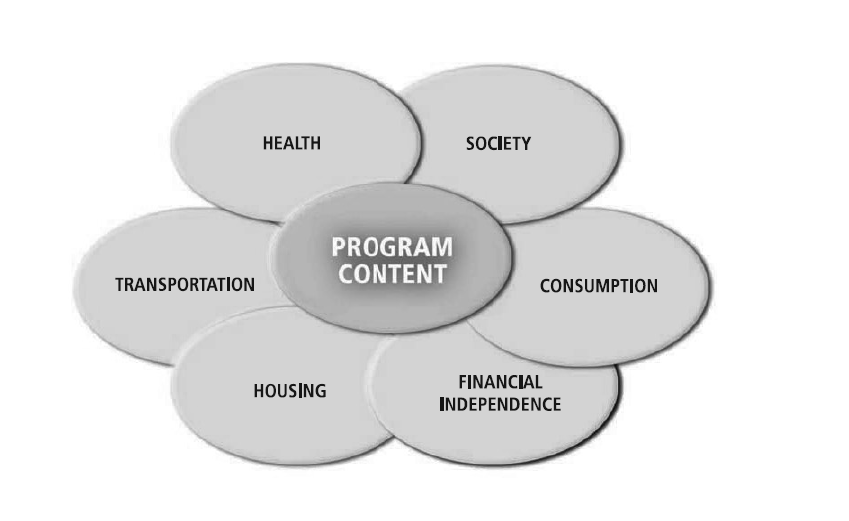 The Ministry's program content is presented in the document below. For each theme, the different concepts are presented as well as how they can be approached and examples of how they can be applied are provided.