How can we turn our idea into a functional project?
In this workshop, students learn the different blocks of the business model canvas and apply the model to their project idea. This workshop can be taught over multiple CCD classes.
---
Workshop Outcomes:
Critical Thinking and Inquiry
Citizenship
Understand the nine building blocks of the Business Model Canvas (BMC)
Design a canvas for the community project
Workshop Vocabulary
Business Model Canvas
Value Proposition
---
Warm Up Exercise (10 Mins)
Customize a community building warm up activity for your group needs. You can consult the following resources for ideas:
● Warm Ups in Design Thinking
● Partners for Youth Empowerment
● Icebreakers & Teambuilders
● Inuit Games

Explore the Community Project Canvas (30mins+)
We recommend that teachers use the Community Project Canvas for this activity – a resource that was adapted for CCD Year 1 projects.
Print a copy of the Community Project Canvas (or BMC) for each student. You can use the Business Model Canvas Workshop presentation provided in the resource pack to present and understand the canvas.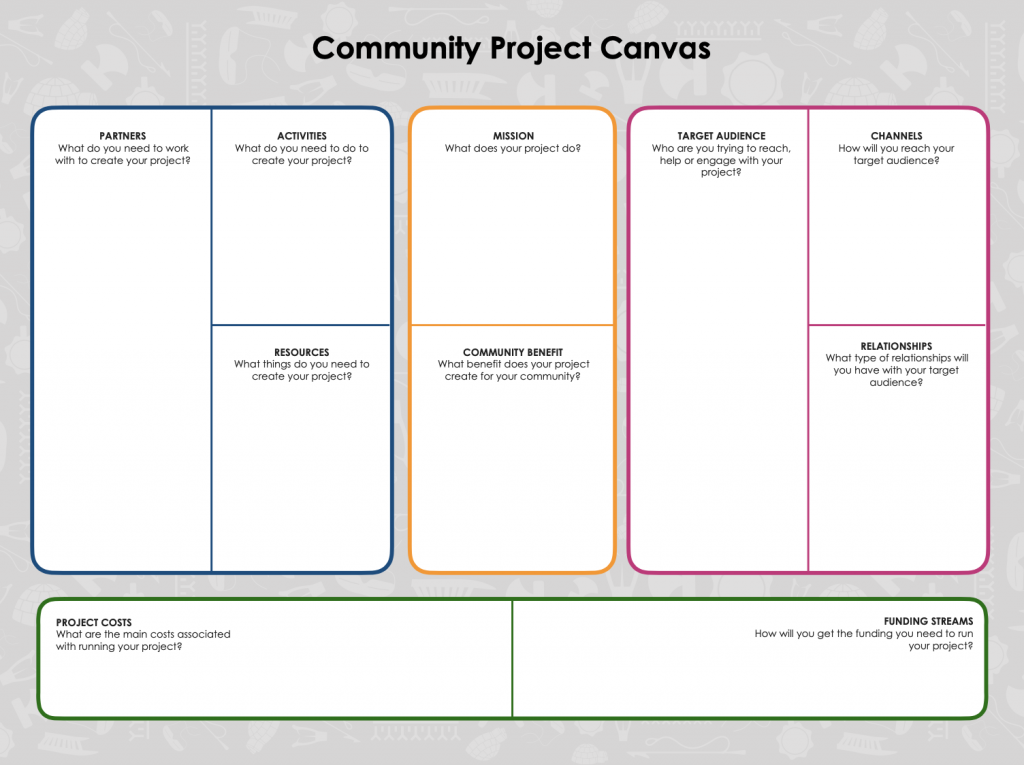 Have a look at "Finding the parts of your prototype" worksheet. Use this to guide your students through this workshop. Begin by working through the first part of the worksheet to sketch out your prototype. This worksheet can also help with the rest of the Project Design process.
Invite a guest entrepreneur or community project leader to go through the canvas using their work as a case study. Ask the owner to introduce their project or business. Students will then ask questions to help them map out the operations of the business on a canvas. Students then work with the local business owner to suggest ways to improve the business model based on what they've learned.
In groups, work on the different sections of the community project canvas with respect to the community project focus. Students sort, organize and map their ideas for an entrepreneurial project using the Community Project Canvas tool. The canvas should identify what you know, what you think you know and what you don't yet know.

---
Debrief and Reflection (10 mins)
What? What is the BMC? Is it valuable in developing our project further?
So what? What did you learn about your project idea?
Now what? How will you adjust or change the project idea?
---
Resources
Presentation
1.2-2.3
Career and Community Development
Business Model Canvas Presentation
A presentation to introduce and explore the Business Model Canvas with students.
Information
1.2-2.3
Career and Community Development
The Business Model Canvas (BMC)
A tool for students to conceptualize a project or a business idea.