What is the human design process? Why is it important in creating a community project?
Students will create a prototype using a design process. The Wallet Exercise, Create a Sport and the Design Thinking Mini Project are three examples of workshops that can highlight the design process. You may choose based on your class needs.
Workshop Outcomes
Innovation, Entrepreneurship and Creative Thinking
Collaboration
Understanding the Human Design Process
Discovering empathy
Creating a prototype
Workshop Vocabulary
Project Based Learning
Human Design
Empathy
Define
Ideate
Prototype
Test
Process
---
Warm Up Exercise (10 Mins)
Customize a community building warm up activity for your group needs. You can consult the following resources for ideas:
● Warm Ups in Design Thinking
● Partners for Youth Empowerment
● Icebreakers & Teambuilders
● Inuit Games

Choose a Design Thinking Exercise (30mins+)
Step 1. Put the Human Design Process up in the classroom:
EMPATHIZE —> DEFINE —> IDEATE —> PROTOTYPE —> TEST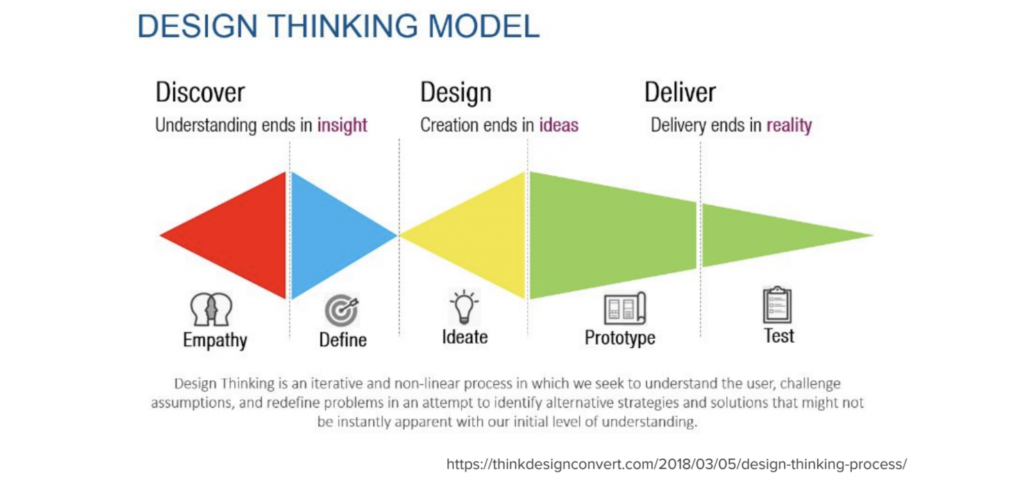 Step 2. Review the suggested* design thinking workshops (available to teachers on Sharepoint) and decide which is most appropriate for your class:
Wallet Exercise by MIT (The original design thinking workshop)
Create a Sport by John Stewart
Design Thinking Mini Project – Divergent Thinking by John Stewart
*There are many workshops available online. We encourage you to find one that can work for your class and the amount of time you have. Feel free to adapt the workshops to your needs.
---
Debrief and Reflection (10 mins)
Refer to the chosen design thinking activity for the debrief protocol.
---
Human Centred Design Resources
Activity
1.2-2.3
Career and Community Development
Wallet Design Thinking Exercise
A one-hour design thinking challenge where participants create a wallet from the perspective of their…
Activity
1.0-2.3
Career and Community Development
Design Thinking Mini Project
A design thinking mini project to foster students' divergent thinking
Activity
Career and Community Development
Create a Sport Design Thinking Challenge
A resources for teachers to take their students through a design thinking experience by creating…