The CCD Curriculum is designed to strengthen communities by building critical life skills, building relationships, leveraging and creating community resources and strengthening culture through the creation of entrepreneurial projects.
Each piece of the framework will contribute to and be strengthened by student entrepreneurial projects, creating a looping system of positive outcomes for both students and communities.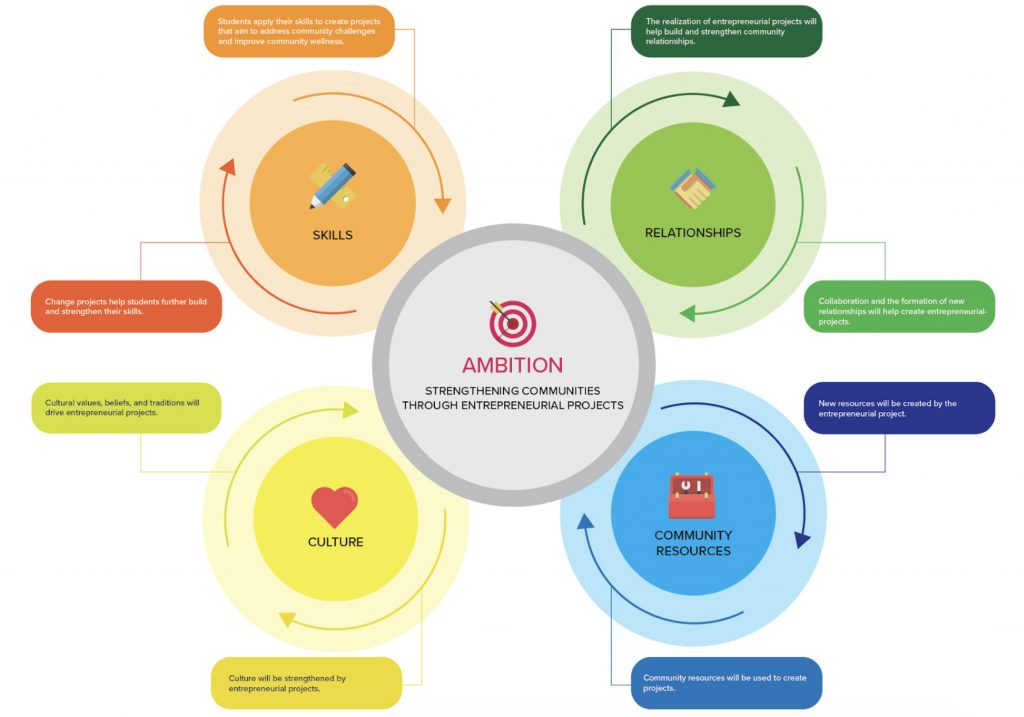 Ambition: Creating Entrepreneurial Projects
The ambition of the course is for students to develop a series of entrepreneurial projects that will contribute to their community's wellbeing. Entrepreneurial projects are projects that harness the student's learning, knowledge, skills and community resources to contribute to the community's well-being in a real, tangible, and measurable way.
Community Resources
Entrepreneurial projects should be created from existing community resources. It is important for youth to recognize the value in the resources they have at their disposal, learn to mobilize them and
to create new resources from what they find. This is reflective of traditional Inuit lifestyle and a core entrepreneurial competency.
Skills
Students will develop and apply critical life skills such as innovation, entrepreneurship and creative thinking; citizenship; collaboration communication; critical thinking and inquiry; and self agency throughout the learning process.
Relationships
Community relationships and collaboration will be central to the success of entrepreneurial projects. Community members should be heavily involved in the course's activities and students should engage with the community in meaningful ways throughout. This will foster and strengthen relationships between students, elders, community leaders, family and friends, entrepreneurs and other community members.
Culture
Culture will be the foundation for the course. The course must impart to students an understanding of how entrepreneurship connects
to their culture and how students can express and integrate their values and traditions into the course's activities and experiences. Inuit culture is at the heart of the design, development and delivery of the entrepreneurial projects.